Adolf Hitler, his inner circle of evil men, and the architects and engineers of mass murders, processing of humans in death camps, and the holocaust have long obscured the role women played in Nazi Germany. Although it is widely accepted and indeed bandied about that the systems that allowed for mass murder on such a scale could not possibly have functioned without the willing or at least supportive involvement of society, the women who made up roughly half of that society seem somehow overlooked. Many were the women who vied for Hitler's attention when he was all the rage. These not-quite Femme Fatales possessed all the attributes that were somehow idealised within the Reich, not least of which cheerfully subservient with a sense of humour and certainly fertile. Hitler personally required of his leadership to be married, never to divorce, and to produce children aplenty. These then are a few of the women behind the Third Reich and the men who are best known as Hitler's inner circle…
Eva Anna Paula Braun was born during the early hours of the morning of February 7, 1912, in Munich. Eva and Hitler met in 1929 during the time that Eva was assistant to the official photographer of the Third Reich, Heinrich Hoffmann. She worked with him at his shop at No.50 Schellingstrasse after he had already signed up as a party member of the Nazis. Eva was never a Nazi Party member herself and managed to remain largely unknown to the general public until the war ended. She went on to be Hitler's mistress for twelve years, and his wife for just one day. Although Eva Braun infamously committed suicide in the Reich Chancellery gardens in Berlin alongside her new husband, on April 30, 1945, in his underground bunker, this was not her first attempt to take her own life. After her first attempted suicide in November 1932, she sported a bullet wound to her neck. She had complained many a time over the years of Hitler's neglect before suicide was attempted for the second time on May 28, 1935. She was said to have swallowed thirty-five sleeping pills just to 'make certain' and was found in the nick of time by her sister, Ilse. Ilse summoned a doctor who managed to save the life of the unconscious mistress.
Magda Goebbels, the blonde belle, carried the title of the First lady of the Reich as wife to the notorious philanderer, Gauleiter of Berlin, and Nazi propaganda minister, Joseph Goebbels. To her credit, she showed a dignified yearning for a quiet divorce from her cheating spouse. A divorce that Hitler forbade vehemently. But who was she before she was to become the First Lady of the Reich?
She was previously married to the millionaire Gunter Quandt who she divorced in 1930, gaining custody of their son, Harald. She lived as a divorcee in a leased seven-room luxury top floor apartment at Adolf Hitler Platz in Charlottenburg, West Berlin. She went on to take up the position of secretary to Goebbels who she married on December 12, 1931. Magda Goebbels suffered a wardrobe catastrophe when her Jewish outfitter was destroyed during the deadly pogroms on Kristallnacht in November 1938, lamenting to a friend, "This is a scandal and a disgrace. What a shame to think that elegant fashion will now vanish from the streets of Berlin."
Her ultimate gesture of loyalty was to join her husband in poisoning all six of their beatifically blond children – Helga, Hilda, Helmut, Holde, Hedda, and Heide – on May 1, 1945. This tragic end to the Goebbel family played out when they were with Hitler in the bunker during the last days of the war. She and her husband then also committed suicide in the garden of the Reich Chancellery. But was this in truth perhaps a gesture of despair? Magda saw to it that all her children were named with an H, in reverence to Hitler who she adored. She admitted to planning to kill her children so that they would not have to suffer the humiliation and torment that came with being the children of a man who would be regarded as one of the greatest criminals Germany had ever produced. She said, "We will take them with us, they are too good, too lovely for the world which lies ahead".
Born Emmy Sonnemann on 24 March 1893, she was a German actress and served as Adolf Hitler's hostess at state functions before World War II. In the early years, Hitler and the early Nazis frequented a café also patronized by Emmy Sonnemann. It was here that she and Göring met while he was in mourning over the loss of his first wife, a Swede, Carin, who died in October 1931. She married Luftwaffe Commander-in-Chief Hermann Göring on 10 April 1935. Hitler was their best man. Hitler proclaimed Emmy Göring the Third Reich's first lady and initiated a form of address just for her, Hohe Frau.
Hermann and Emmy had a daughter, Edda Göring, born on 2 June 1938, supposedly named after Countess Edda Ciano, the eldest child of Benito Mussolini. Together with her powerful husband, Emmy Göring lived a lavish life and was very much in the public eye. During the war years, her husband accumulated mansions, estates, and castles in Austria, Germany, and Poland and benefited handsomely from the art and wealth that the Nazis' confiscated from Jews and other enemies of the Nazi regime.
Emmy was sentenced as a Nazi to one year in jail by a German denazification court after the war. Upon her release, almost a third of her property had been confiscated and she had been banned for 5 years from the stage. When Hermann Göring killed himself with a cyanide capsule after the Nuremberg war crimes trials had sentenced him to death, Emmy and her daughter were living in a 2-room cottage without running water or electricity. She eventually moved to a small apartment in the rebuilt city of Munich where she lived out her remaining years, dying on the 8th of June 1973.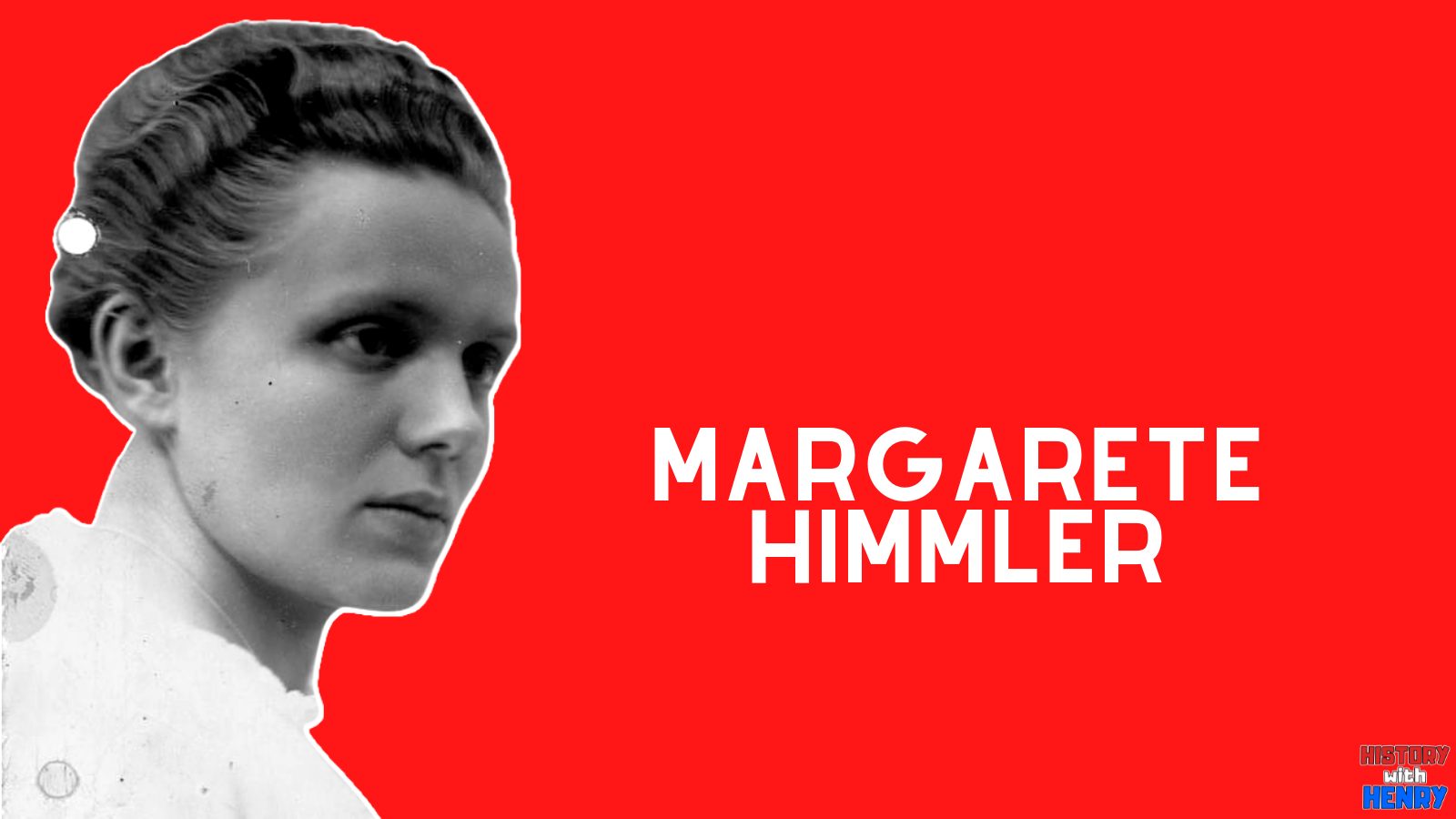 Margarete Boden was born to a West Prussian landowner, Hans Boden, and his wife Elfriede Popp. She was known as the blonde and blue-eyed Marga. She was a nurse during the First World War and spent some time at the end of the war at a German Red Cross hospital. She moved to Berlin not long after the end of the war, where she entered into a childless marriage and operated and directed a private nursing clinic. She first met Heinrich Himmler during one of his lecture tours in 1927. They remained in written contact and, despite being 7 or 8 years his senior, were married on July 3, 1928. They started farming poultry at Waldtrudering near Munich but experienced financial difficulties and subsequently separated. They had a daughter named Gudrun and later adopted a son named Gerhard von der Ahé, the son of an SS officer who was shot and killed in 1933. Himmler largely ignored Gerhard who nonetheless joined the SS in 1945, was captured by the Russians, released in 1955, and then returned to Germany to live with Margarete.
Margarete never fit in with the SS or Nazi party wives and preferred running her household affairs and tending to her husband's enterprises. Heinrich was known to be a "henpecked" husband.
In 1938 Hedwig Potthast became Himmler's personal secretary and they became romantically involved, producing a son and a daughter together. Although Margarete learned of the affair and its progeny in 1941, she remained married to Himmler. She went to Poland with the Red Cross during World War II and was promoted to the rank of Oberst (colonel).
Margarete and Gudrun saw Himmler for the last time in early April 1945, shortly before he committed suicide by taking a cyanide capsule on April 5th, while in British custody. Margarete lived to 73, never repenting her part in the Nazi Party or her anti-antisemitism.
Lina Mathilde von Osten was born on 14th June 1911 in Fehmarn, Germany, to a schoolteacher. She was a beautiful blonde 19-year-old on 26th December 1931 when she married Reinhard Heydrich, the architect of the Nazi extermination of six million European Jews. Lina denied until her dying day, however, that her late husband had anything to do with what was known as the Final Solution.
Barely six months after their marriage, he was promoted in July 1932 to Standartenführer-SS or full colonel. As Himmler's chief of staff, he developed not only the entire SS but also personal relationships with the likes of Rudolf Hess and Martin Bormann within the National Socialist German Workers Party.
Lina bore him three children over the following years: Klaus born on 17th June 1933, Heider on 23rd December 1934, and Silke on 9th April 1939. It was during this time that Reinhard took up a senior position in the Gestapo and continued working closely with Heinrich Himmler.
An assassination attempt on Heydrich's life in Prague on 27 May 1942 by a British-trained team of Czech and Slovak soldiers sent by the Czechoslovak government-in-exile saw him succumb to his injuries a week later. Erroneous Intelligence linked the assassins to the villages of Lidice and Ležáky resulting in Lidice being razed to the ground and its residents exterminated. All men and boys over the age of 16 were shot, and all but very few of the women and children were killed in Nazi concentration camps.
Lina gave birth to a daughter named Marte on 23rd July 1942, a month after Reinhard's death. Lina's two sons, Klaus and Heider, were hit by a small truck while cycling on 24th October 1943. Klaus died later that afternoon from his injuries. Lina was among the most prominent recipients to receive a special pension for the victims of war as a widow of an SS death camp guard.
Lina married Finnish theatre director Mauno Manninen and ran a restaurant from Reinhard Heydrich's summer house on Fehmarn Island before it burned down in February 1969. She died on 14th August 1985.
Born in February 1902 in Baden to a surveyor who died in 1910, Gertrud went on to work as a journalist. She married three times and gave birth to eleven children. During the rule of the Third Reich, she led the Nazi Women's Group, directing all women's organizations including the Frauenwerk (a federal organization of women), Women's League of the Red Cross, and the Women's Labour Front. She was billed as the Perfect Nazi Woman in 1939 during her visit to the United Kingdom. The National Socialist Women's League (Nationalsozialstische Frauenschaft, NSF) and the German Women's Enterprise (Deutsches Frauenwerk, DFW) pushed Nazi ideologies into the everyday lives of German women through propaganda, newspapers, women's magazines, and speeches. Scholtz-Klink summarized the aim of Nazi policy towards women by saying: "Our job (and we did it well) was to infuse the daily life of all German women—even in the tiniest villages—with Nazi ideals."
Gertrud and her husband, SS-Obergruppenfuhrer August Heissmeyer, fled Berlin after the war, during which she was wounded five times in crossfire between German and American troops. She and her husband were prisoners of war of the Soviets for a brief time, but they managed to escape and collect their youngest child. Together, they hid out with a Nazi sympathizer, Princess Pauline of Wurtemberg, in Bebenhausen Castle for three years. The German, French, and American police forces arrested the two former Nazi leaders in February 1948. In May 1950 she was sentenced by a German denazification court to thirty additional months in prison. She was furthermore forbidden from working as a journalist or teaching for ten years. Gertrud remained committed to her Nazi beliefs throughout her trials. After her release in 1953, she returned to Bebenhausen Castle where she spent her remaining years until her death on March 24, 1999.
Born Leni Helene Bertha Amalie Riefenstahl in Berlin on August 22, 1902, she was a ballet dancer, actress, film director, and producer, and founded her own film company in 1931. Hitler appointed her to produce films for the Nazi Party, among them her masterpiece 'Olympia', the famous documentary of the 1936 Olympic Games held in Berlin. She steadfastly denied being a member of the Nazi party but was castigated after the war because of her relationship with Hitler and spent almost four years in Allied prisons.
In 1952 she was cleared of war-crime charges by a German court and left for Africa in 1962 to live for eight months with the Nuba tribe. At 70 years of age, she learned underwater scuba diving and went on to film hundreds of undersea documentaries over the next 18 years. She became a member of Greenpeace at the age of 90. Her one regret was making the 1935 Nazi propaganda film "Triumph of the Will'. She survived a helicopter crash in Sudan in 2000, attempting to find out what happened to her Nuba friends during the Second Sudanese Civil War. She was airlifted to a Munich hospital for treatment.
She celebrated her 101st birthday on 22 August 2003 and fell ill the following day. Although suffering from cancer for some time, her health deteriorated rapidly during the next two weeks, and she died in her sleep at home in Germany on the night of the 8th of September 2003.
Dr. Jutta Rüdiger was born in Berlin on the 14th of June 1910 but grew up in Düsseldorf. She studied to qualify as a psychologist and became head of the Nazi Party's female youth organisation and the League of German Girls (Bund Deutscher Mädel, BDM) between 1937 and 1945. She carried the title of Reichs Deputy of the BDM signifying her position as being subordinate to the overall Nazi Youth Leader in accordance with Nazi policy that women and their organisations were subordinate to male leadership.
In 1936, membership of the BDM became compulsory for girls aged 10 to 18. BDM girls under the Nazi state were destined to become wives and mothers to Nazi men and to bear children to increase the Aryan race. By 1941 when the German men were drafted, the BDM girls became the workforce of the Reich. As such, Rüdiger presided over a female workforce of several million which provided additional labour to the state and to the war effort. These women went on to man the flak batteries that guarded German cities.
American forces arrested Rüdiger in 1945, and she was detained for two and a half years without ever being charged with an offence or brought to trial. She was released and took up a career as a pediatric psychologist in Düsseldorf. She died in 2001 at Bad Reichenhall at the age of ninety.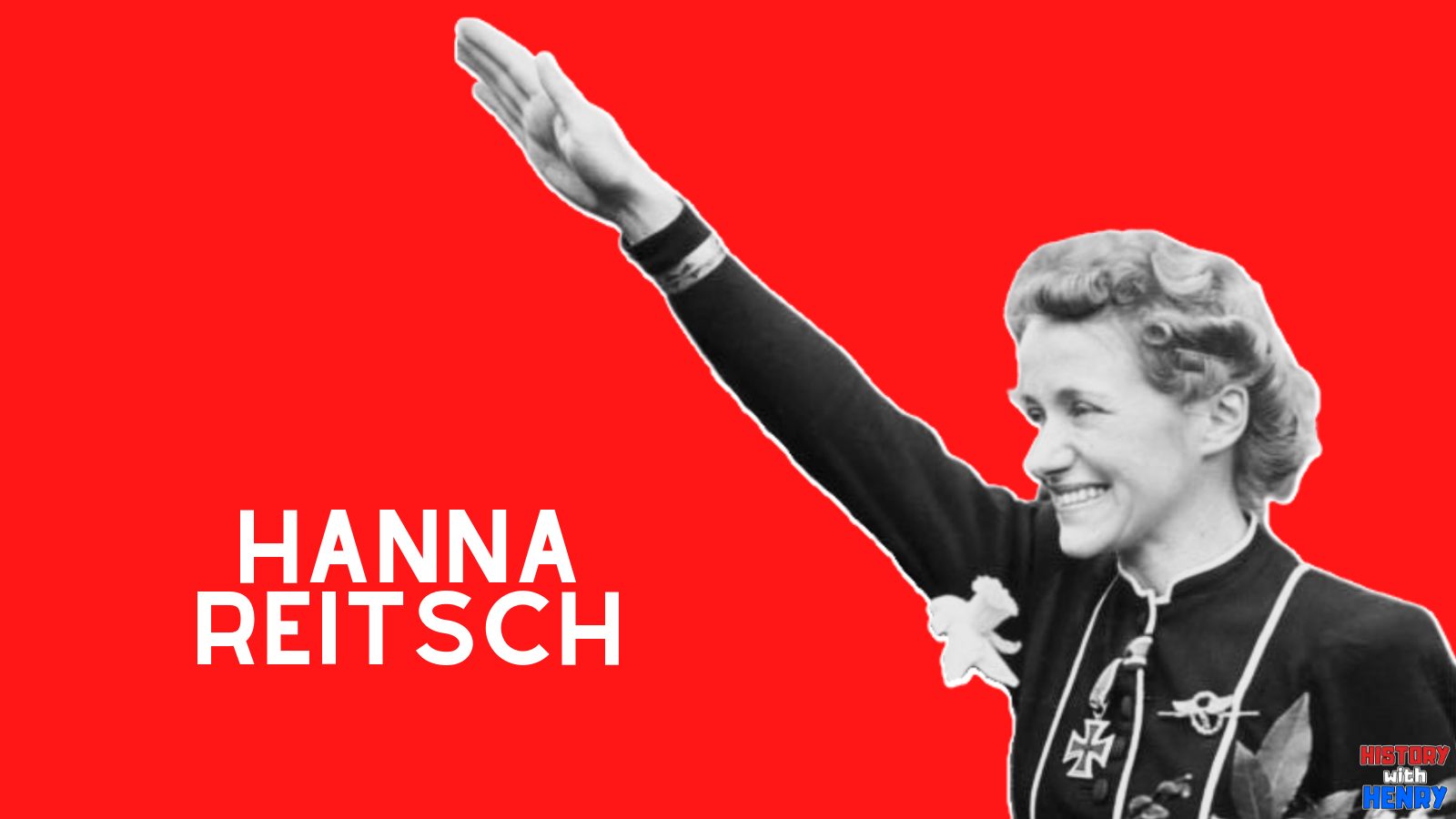 Hanna was born in Hirschberg, Silesia, in modern-day Poland. She was Germany's leading woman stunt pilot before the war and went on to be the chief test pilot for the Luftwaffe. She was in fact the first female test pilot in the world. Hanna suggested creating the Nazi equivalent of a kamikaze squad of suicide bombers. She put this to Hitler while visiting him in Berchtesgaden, but he was not enthused by the notion. As a staunch supporter of Hitler and the Nazi ideology, she was the only woman to win the Iron Cross. A feat she managed twice.
It is speculated that Hanna Reitsch would have flown Hitler out of occupied Germany had he not committed suicide. This supposition is fuelled by the fact that she spent the three days leading up to his death on April 28 in the Bunker with him. She left the Bunker to fly the newly appointed Chief of the Luftwaffe, General Robert Ritter von Greim, out of Germany. His orders were to bomb the Russian forces approaching the Chancellery and the Führerbunker. Von Greim was arrested and committed suicide in a Salzburg hospital on 24 May 1945 while awaiting trial.
Hanna Reitsch succumbed to a heart attack, dying on August 24, 1979, in Frankfurt.