Henry VIII is famous for having six wives. Usually, queen consorts of England are buried next to or close to their husbands. However, with six wives (two being executed and another two divorced), it will be little surprise that Henry VIII isn't buried next to them all.
So, where are Henry VIII's wives buried? And which of the wives had their tomb and their body desecrated.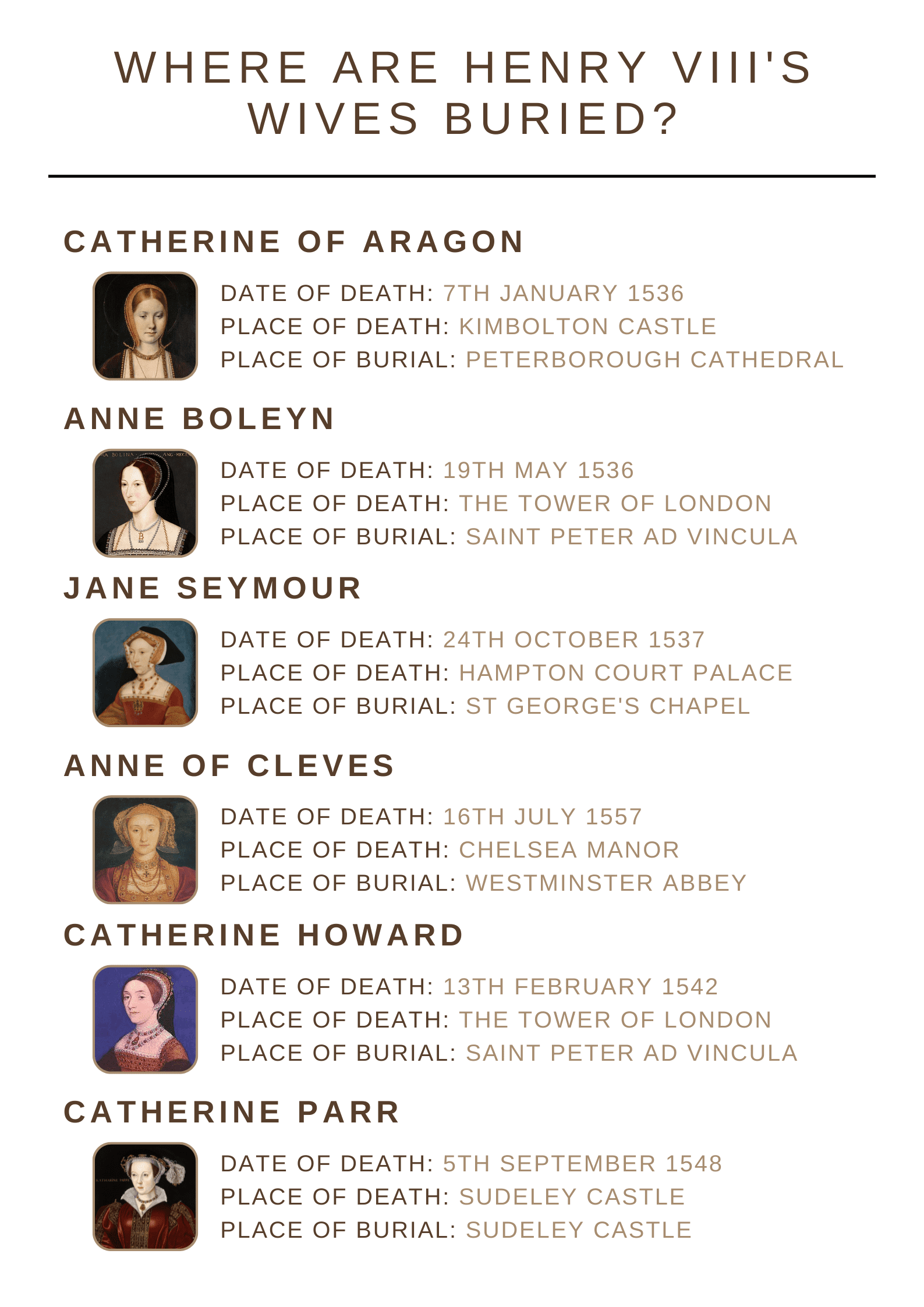 Where is Catherine of Aragon buried?
Catherine was married to Henry VIII for almost 20 years. She never accepted the fact that Henry had divorced her. She always considered herself to be the true and rightful Queen of England until the day of her death.
This refusal to accept the divorce infuriated Henry VIII.
He banished her from court and refused to allow her to see their daughter, Mary.
Catherine ended up at Kimbolton Castle. It was a dreadful place. It was a decaying, damp medieval building entirely unsuitable for the former Queen. Catherine's health deteriorated rapidly.
She knew she was dying, and in one of her final acts, she wrote a last letter to Henry, still clinging to her belief that she was Queen.
Upon hearing news of her death, Henry and his new Queen, Anne Boleyn, celebrated by dressing in yellow.
The decision then had to be taken on where to bury Catherine of Aragon.
She was still immensely popular with much of England's population. Like her, they considered that she was still the true and rightful Queen.
Henry VIII decided to bury Catherine of Aragon at Peterborough Abbey, now Peterborough Cathedral. It was a suitably grand enough building yet out of the way to avoid attracting attention.
When she was buried, it was not with the full honours attributed to the Queen of England but instead as Dowager Princess of Wales.
The "divorce" was technically an annulment. This meant legally, her marriage to Henry had never taken place, so she was treated as though she was still the widow of Henry's older brother, Arthur.
In later years the markings on her grave have been changed to reflect her true status as a Queen of England.
Her grave can still be visited at Peterborough Cathedral.
Catherine of Aragon died on 7th January 1536 at Kimbolton Castle, buried on 29th January 1536 at Peterborough Cathedral.
Where is Anne Boleyn buried?
Anne Boleyn was famously executed on Tower Green on the 19th of May 1536 after being found guilty on false charges of adultery and treason.
Prior to her execution, her title of Queen of England had been removed, and her marriage to Henry had also been annulled. She had no royal status at the time of her burial.
Unbelievably no provision had been made for a coffin. Therefore, her body was stuffed into an empty arrow chest and taken to the Chapel Royal of Saint Peter Ad Vincula just a few short yards away from Tower Green.
The Chapel Royal of Saint Peter Ad Vincula is the Tower of London parish church. Many other significant people had been buried within it…almost all of them had been executed after being held prisoner in the Tower.
Anne Boleyn was buried in Saint Peter Ad Vincula somewhere around the altar.
Accurate records were not kept, and when excavations were made during the Victorian age to make repairs, it was unclear who are the bodies in front of the altar were. Debate still rages amongst historians regarding the exact position of Anne Boleyn's remains in The Chapel Royal of Saint Peter Ad Vincula.
Anne Boleyn died on 19th May 1536 at The Tower of London, buried on 19th May 1536 at The Chapel Royal of Saint Peter Ad Vincula, The Tower of London.
Where is Jane Seymour buried?
Jane Seymour managed to do what Henry VIII's previous two wives had failed to do – she provided Henry with his male heir.
After the birth at Hampton Court, all seemed well, despite difficult labour. Jane even signed letters and documents in the days after Prince Edward's birth.
Just a few short days after the birth of young Prince Edward at Hampton Court, she took ill. It is believed that she contracted Puerperal Fever, what was known as childbed fever. She died on the 24th of October 1537 at Hampton Court.
Jane was buried in a vault in the Quire of St George's Chapel Windsor Castle on the 12th November 1537. Henry VIII's daughter Mary acted as chief mourner at the funeral. Jane Seymour was the only one of Henry VIII's wives to receive a Queen's funeral.
In 1547 Henry VIII was to join her in the vault after his own death. Out of all six of his wives, Henry VIII chose to be buried next to Jane Seymour. This was a dynastic decision, as Jane had been the sole wife to provide him with a legitimate male heir.
Jane Seymour died 24th October 1537 at Hampton Court Palace, buried on the 12th November 1537 at St George's Chapel, Windsor Castle.
Where is Anne of Cleves buried?
Henry VIII's marriage to Anne of Cleves was the shortest of the six, lasting a little longer than six months. It ended in another divorce. However, it was a lot more amicable than the split from Catherine of Aragon.
Anne Cleves actually lived the longest out of all of Henry's wives. She got a handsome payoff for agreeing to the divorce, and many people say that she got the best deal out of all of Henry VIII's wives. She lived to attend the coronation of Henry's daughter, Mary I.
She had good relations with "Bloody Mary", converting to the Catholic faith to please her.
When Anne of Cleves died at Chelsea Manor on the 16th of July 1557 (probably of cancer), Mary arranged for her to be buried in Westminster Abbey. She is the only one of Henry VIII's wives to be buried in the Abbey, among some of the most famous names in history.
She doesn't have a grand tomb. In fact, it is said that she is buried in a "somewhat hard to find tomb." It is on the south side of the high altar. It is a stone tomb carved with her initials, crowns, and lions.
Anne of Cleves died on 16th July 1557 at Chelsea Manor, buried on 3rd August 1557 at Westminster Abbey.
Where is Catherine Howard buried?
Catherine Howard was beheaded on Tower Green on 13th February 1542 on Tower Green.
A Bill of Attainder has been passed against her for failing to disclose her sexual history to the King within twenty days of her marriage and of inciting a person to commit adultery with her – in short…treason.
Legend has it that the night before her execution, she requested that the block be brought to her chambers so she could practice laying her head upon it. On the morning of the execution, she was so frightened that she needed help to climb the few steps to the scaffold.
Like Anne Boleyn, she was buried in Saint Peter Ad Vincula somewhere around the altar.
During the Victorian era renovations of the castle, her remains could not be identified. It has been suggested that she was so young at her death (she might even have been a teenager still) that her bones hadn't hardened and had rotted away. Others suggest that lime was added to her grave to quicken this process.
However, some historians argue that what others suggest may have been Anne Boleyn's remains are, in fact, those of Catherine Howard. Likely, we shall never know.
Catherine Howard died on 13th February 1542 at the Tower of London, buried on 13th February 1542 at The Chapel Royal of Saint Peter Ad Vincula, The Tower of London.
Where is Catherine Parr buried?
Catherine Parr is famous as Henry VIII's final wife and the one that "survived." Unfortunately, she didn't "survive" for long.
She caused a scandal by marrying Thomas Seymour, Jane Seymour's brother, just four months after the death of Henry VIII. The marriage happened secretly as she knew the council would not allow the wedding to occur so soon after the old King's death.
She became pregnant.
Despite being married four times, this was her first pregnancy. She was thirty-five years of age. This was very old for a first pregnancy in the Tudor era.
In June of 1548, she and her husband went to his country estate of Sudeley Castle in Gloucestershire.
She gave birth to a daughter, Mary, in late August. However, just like Jane Seymour, she caught "childbed fever" after birth and died on the 5th of September, 1548. Her funeral occurred two days later, with Lady Jane Grey acting as chief mourner.
Catherine Parr died 5th September 1548 at Sudeley Castle, buried 7th September 1548 at Sudeley Castle.
The desecration of Catherine Parr's grave
Catherine Parr is the only Queen of England to be buried on private land. Over the years, that has caused many problems. Control and protection of the grave could not be given, resulting in numerous desecrations.
The Civil War was the period that caused the first desecration. Sudeley Castle was a royalist stronghold that was sacked in January 1643. It is thought that Catherine Parr's original monument was destroyed after then.
This was nothing unusual for the period. Parliamentarian forces stripped or destroyed numerous cathedrals, churches, graves, and monuments.
"There is in the castle a goodly fair church, here they dug up the graves, and disturb the ashes of the dead, they break down the monuments of the Chandoses."
Such was the destruction that the grave was lost for over one hundred years.
In 1768 a historian, Reverand Huggett, discovered details regarding the grave in the records of the College of Arms.
Joseph Lucas, who rented accommodation in the castle, set about trying to discover the grave based on Huggett's research. In 1782 he was successful.
He found a lead coffin just over two feet deep. He opened it.
Catherine Parr's body was found uncorrupted and wrapped in cloth linen. He also cut through that revealing an arm said to be "white and moist."
News of this discovery quickly went around, including an account published in the long-running journal, Notes and Queries.
The coffin was opened again in 1782, 1784, and 1786, during which pieces of Catherine Parr's dress and locks of her hair were taken. They can still be seen when the Castle is open to the public.
Further desecration was to come in 1792 when vandals broke into the church, opened the coffin, and threw the body into a rubbish heap.
After its recovery, the body was buried in a hidden grave.
The coffin was opened again in 1817 when the new rector decided to move to the crypt. It was discovered that all that was left were bones.
The coffin was moved a final time in 1861 to its last location. The church had been restored, and a suitable marble memorial tomb had been finally constructed.