Catherine Howard was Henry VIII's fifth wife and the second to be executed. She was beheaded at the Tower of London on 13th February 1542 after being accused of committing adultery and therefore, treason with Thomas Culpepper. Was there any truth in the accusations? We will never know for sure, but the chances of her guilt are far higher than the chances of Anne Boleyn's guilt.
Henry VIII showed his ruthless side by bringing in a law making it a requirement for anyone marrying the king to inform him of their sexual history within twenty days of marriage. Of course, Henry brought in this law retrospectively, so Catherine Howard had no chance of complying. It was simply introduced so that another charge could be thrown at Catherine and so that Francis Dereham could be executed.
Here are 17 facts about the tragic Catherine Howard, Henry VIII's teenage Queen.
1. Catherine Howard's Date of Birth is unknown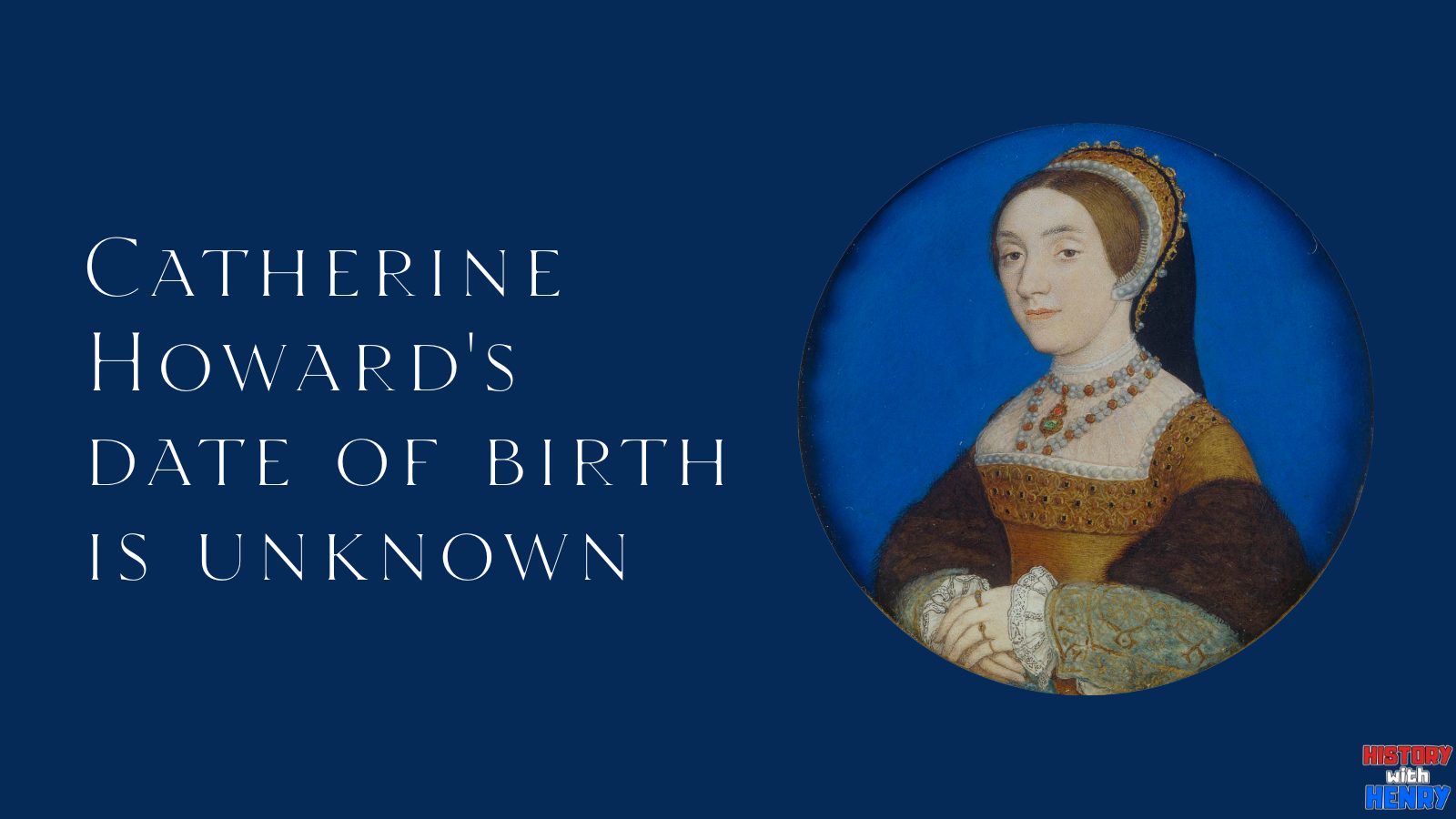 Although Catherine's exact date of birth is unknown, it is believed to be between 1521 and 1525. Like the date of her birth, the location of her birth is not clear either. However, Lambeth would seem to be a likely place.
She was born to Joyce Culpeper and Lord Edmund Howard, a son of the 2nd Duke of Norfolk (a man who had seventeen children.)
Edmund Howard was brother to Anne Boleyn's mother, Lady Elizabeth Howard. As one of many children of the poor younger son in the Norfolk family, Catherine was comparatively unimportant and quite indistinct among the quagmire of Howard cousins. The fact that she was a Howard did not serve to elevate her in any way as an important person in her own right.
2. Catherine Howard was related to Thomas Culpepper
History lovers will notice the surname of Catherine Howard's mother.
Catherine's mother was a distant cousin to Thomas Culpeper, the very man with whom the Queen was accused of committing adultery.
3. Catherine Howard was a cousin of Anne Boleyn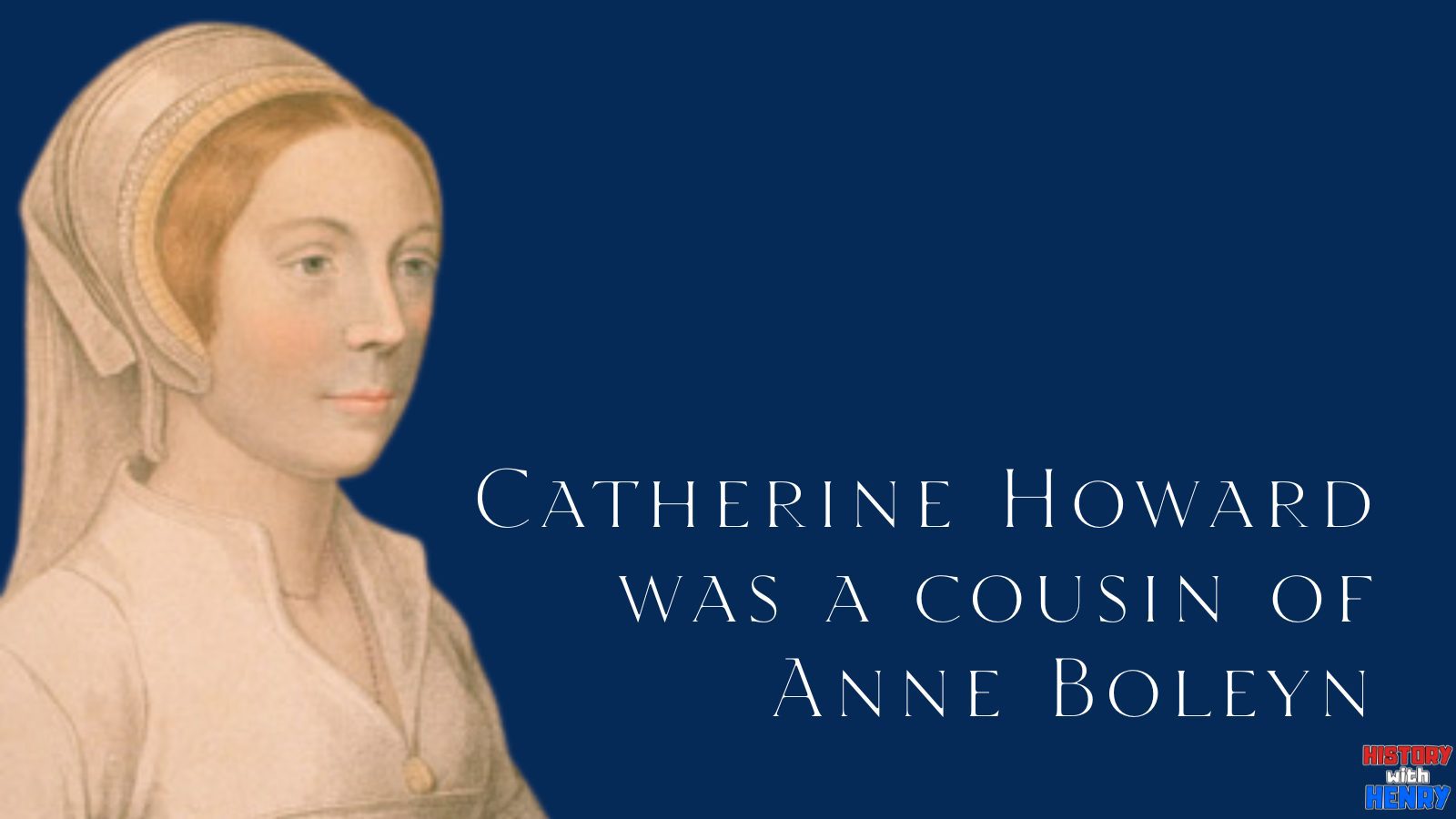 Henry VIII didn't learn his lesson from his first marriage to a Howard.
Anne Boleyn was Catherine's first cousin on her father's side, being that Anne was the daughter of her father's sister, Elizabeth Howard.
This meant that Thomas Howard, 3rd Duke of Norfolk, was her uncle and a leading politician at Henry's court. It was he who secured Catherine a position in the household of Anne of Cleves, Henry's fourth wife.
The 3rd Duke of Norfolk is often portrayed as a villain, daggling his nieces in front of Henry VIII in the hope of securing a marriage to the King. How true this is, we can't be sure.
4. She was sent to live with Dowager Duchess of Norfolk – it was a disaster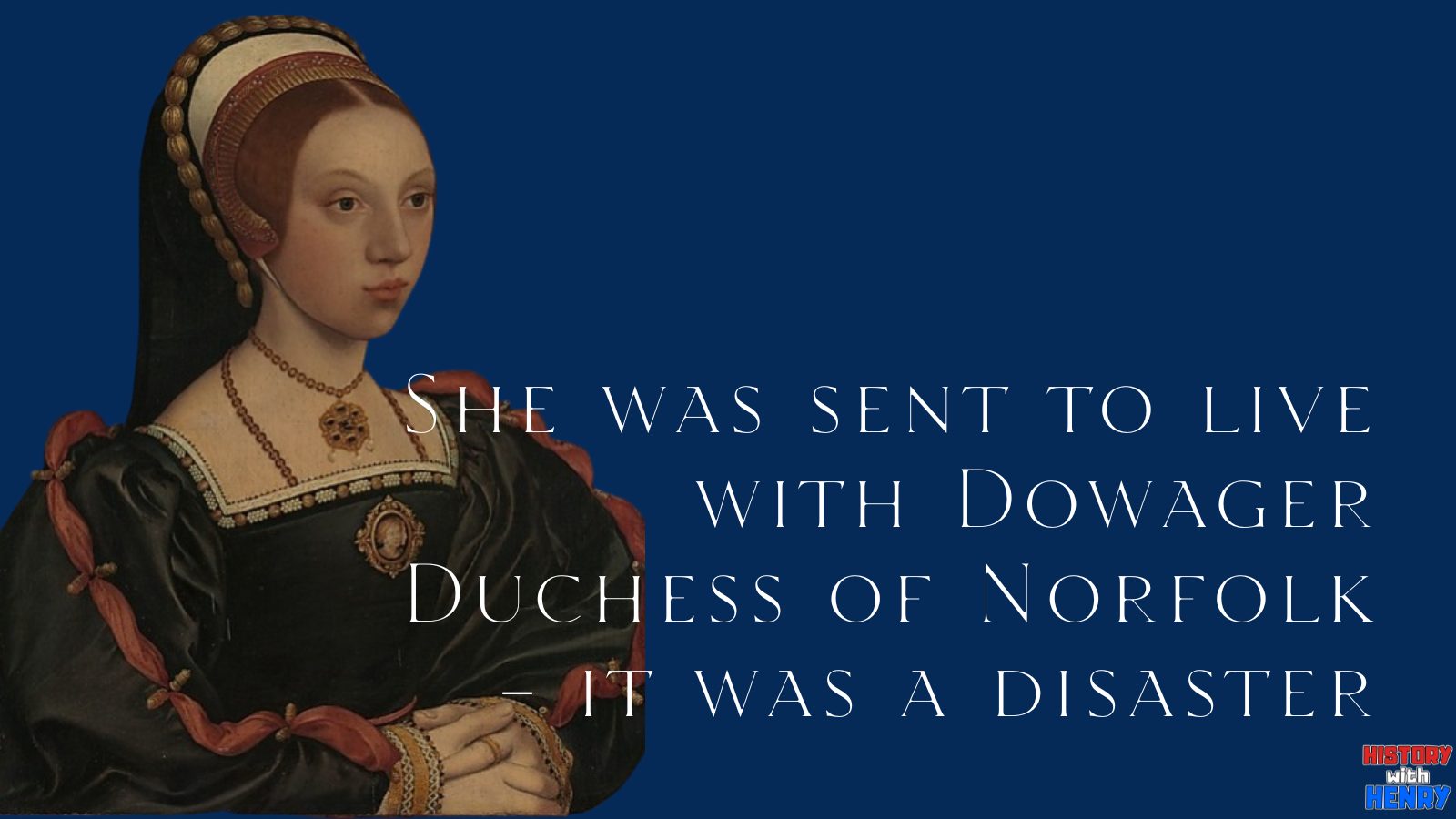 Catherine's mother passed away somewhere around 1528, and she was sent away to live with her father's stepmother, the Dowager Duchess of Norfolk, Agnes Howard.
The Dowager Duchess managed many large households, Norfolk House in Lambeth and Chesworth House in Horsham, Sussex, among them. It is here that Catherine was sent to be cared for.
Agnes Howard shared her home with dozens of attendants and many wards who were the children of her poor aristocratic relatives. European nobles accepted as commonplace educating young children and training them in aristocratic households. What was unusual, though was how sorely supervised the children were at Chesworth House and Lambeth.
Because the Dowager Duchess spent much of her time at Court, she was less than personally involved with her wards. Catherine was understandably swayed by older girls who stole food and wine from the kitchens to entertain men in their sleeping areas at night.
As she grew older, she participated in these activities. Ultimately, this led to her downfall. When Catherine Howard married Henry VIII, some of the women she lived with at that time told stories of her scandalous past. These stories soon spread, and they reached the ears of powerful men at court.
5. Catherine Howard was groomed by her music teacher
Henry Manox was employed as a music teacher to the young ladies in the care of the Dowager Duchess, and he appears to have used his position to groom the young Catherine from the age of only 13.
Catherine was quoted as saying about him, "At the flattering and fair persuasions of Mannox, being but a young girl, I suffered him at sundry times to handle and touch the secret parts of my body, which neither became me with honesty to permit nor him to require."
The Dowager Duchess happened upon the two and forbade them ever again to be alone together again. How far Catherine and Manox's "relationship" went is unknown.
Interestingly despite being questioned about Catherine Howard and Catherine's confession, he was not sanctioned by the King.
6. Catherine may have "married" Francis Dereham
Late in 1538, Francis Dereham believed he was in love with Catherine while she resided in Norfolk House in Lambeth. Dereham had an affair with Joan Bulmer, who also lived in Norfolk House, before moving his attention onto Catherine.
Unlike the relationship with Manox, it would seem that Catherine Howard was a willing participant. The pair ended up calling each other husband and wife. This may have indicated that an illicit marriage took place, or if it didn't, then a precontract may have existed between the two.
However, both of these potential situations were denied by both Catherine Howard and Dereham.
Henry Manox, probably consumed with jealousy, ended Dererham and Catherine's affair with an anonymous letter to the Dowager Duchess. The letter encouraged the Duchess to go to her ward's bedroom "half an hour after" going to bed, saying ", you shall see that which shall displease you". Dereham was subsequently sent away to Ireland, and the Duchess rebuked Catherine for behaving in such a way that might "hurt her beauty".
7. Catherine Howard became Lady in Waiting to Anne Of Cleves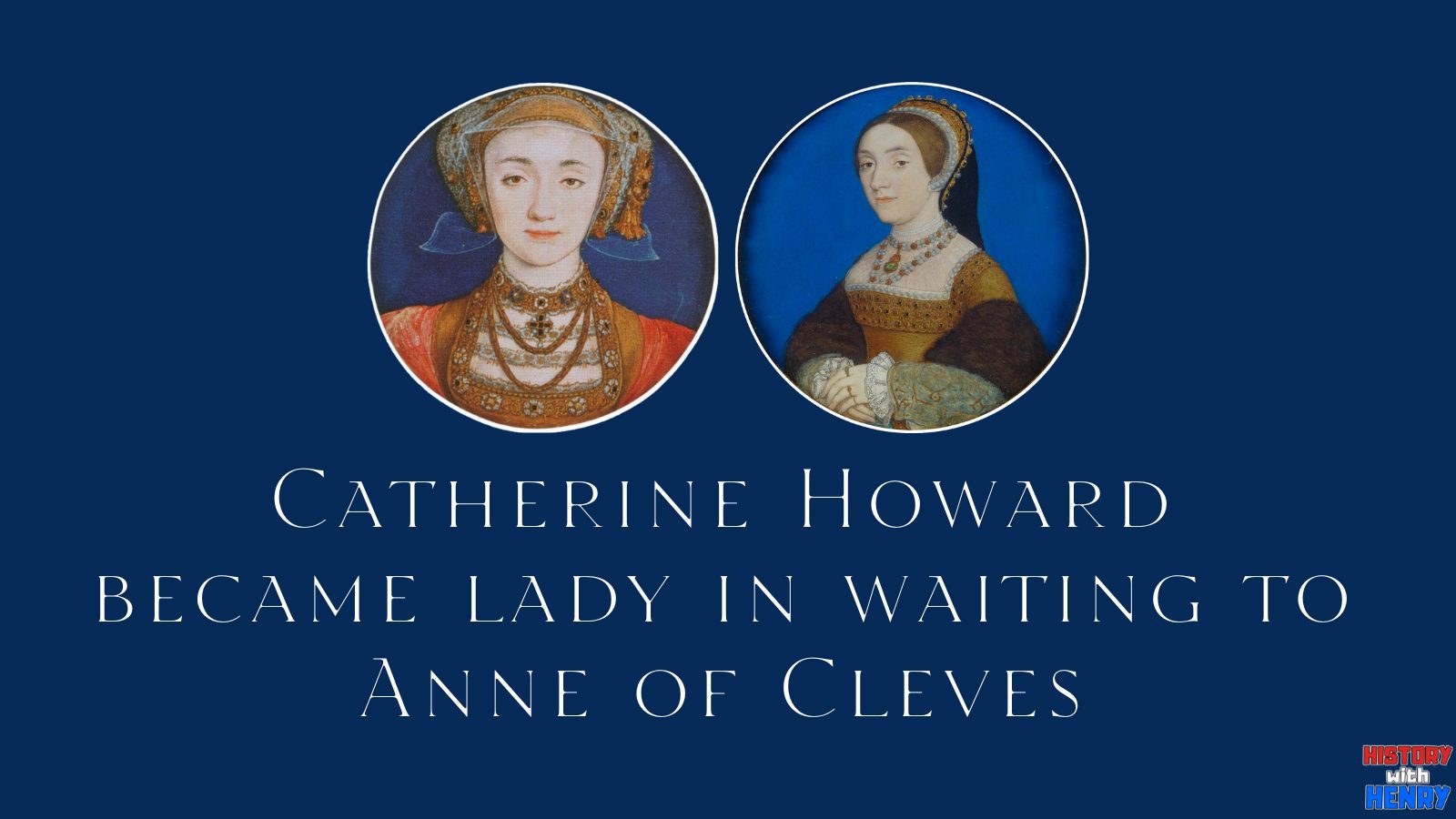 Thomas Howard, The Duke of Norfolk, Catherine's uncle, got her a position at court as Lady in waiting to Anne of Cleves, King Henry VIII's new wife.
The royal court would have been a dangerous place for someone like Catherine. She lacked education and was naive. There would have been no shortage of men eager to exploit her.
Henry VIII soon noticed the pretty lady-in-waiting having made no bones about his disinterest in his fourth wife. Henry VIII's chief minister Thomas Cromwell had proposed the match with Anne of Cleves. The king had "approved" her from the portrait that Hans Holbein the Younger had painted. However, when he saw Anne of Cleves in the flesh, he didn't like her.
It is suggested that the Duke of Norfolk placed Catherine in Henry's court to catch the King's attention. Norfolk's influence had been decreasing at court, and there was the matter of religion. The Howard's were true Catholics. However, they feared Henry VIII was being pushed towards reformist views by Cromwell and men such as the Seymours.
When Thomas Howard saw Henry's displeasure at his marriage to Anne, then an opportunity presented itself.
How true this, we don't know.
8. An execution in the morning and a marriage in the afternoon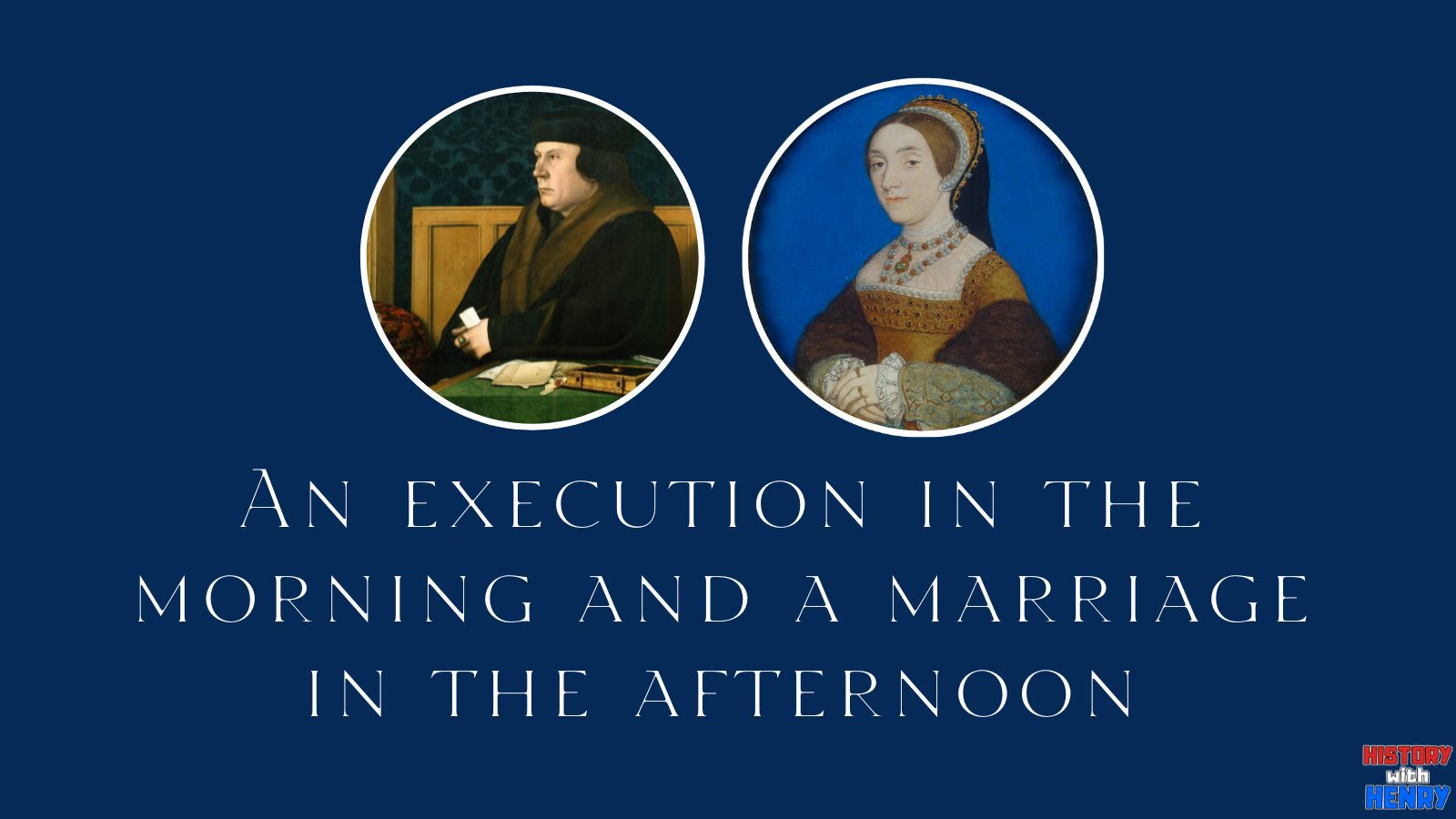 King Henry VIII married the teenage Catherine Howard at Oatlands Palace on the 28th of July 1540.
Marriage to Henry VIII was not a very appealing prospect. Catherine was almost certainly still a teenager, and Henry was 49. This was not the young and attractive Henry VIII that excelled at sports. His jousting accidents had taken their toll, and now he was fat and infirm. His legs were heavily ulcerated, and it was said that people could smell him coming before they saw him.
Henry and Catherine got married in the afternoon. But that morning, there was another significant historical event. Thomas Cromwell was beheaded on Tower Hill. Henry VIII had never forgiven him for his marriage to Anne of Cleves, and Cromwell's enemies had moved against him.
It's safe to say that 28 July 1540 was certainly an "interesting" day in Tudor history.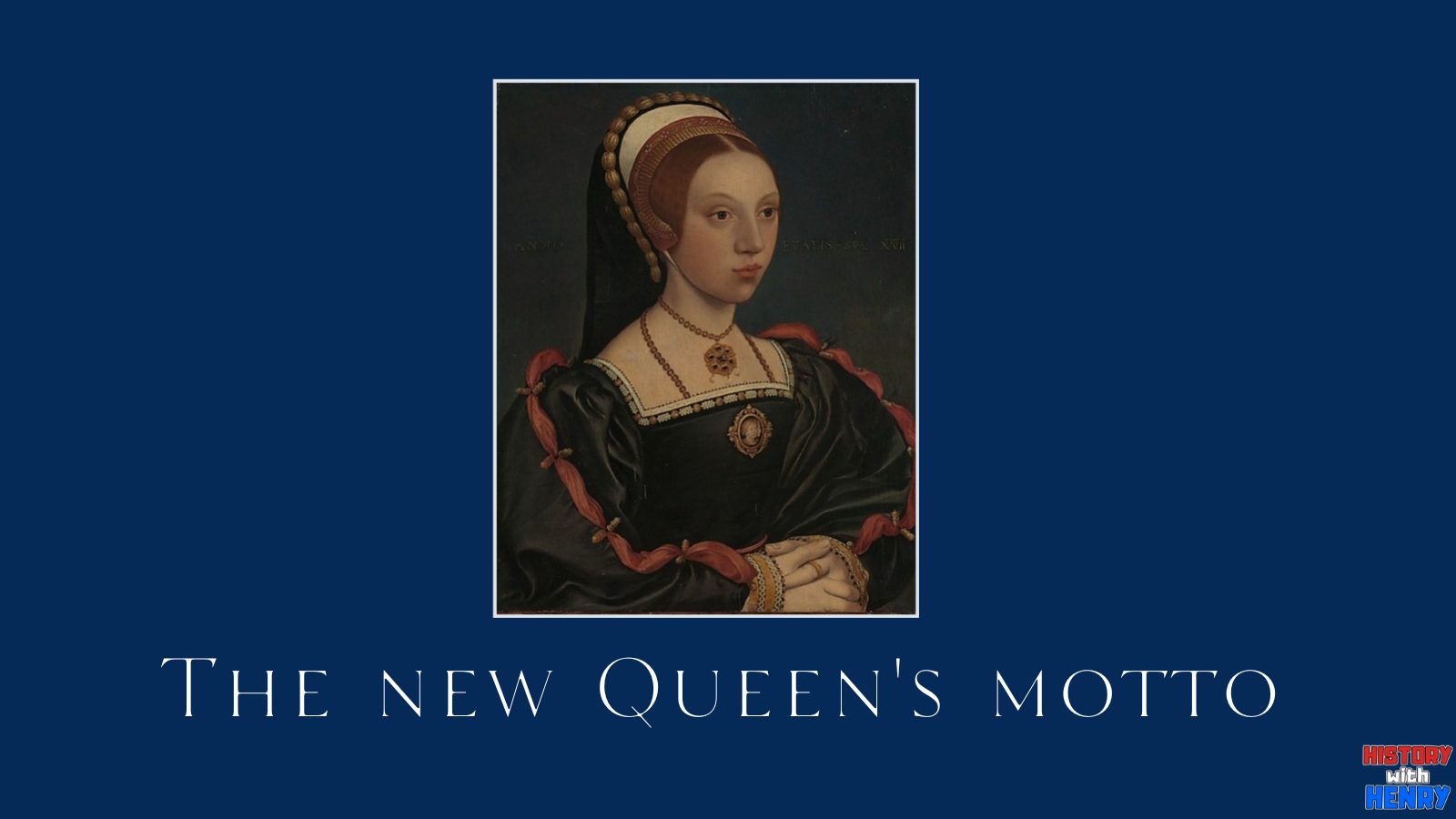 After her marriage to Henry, Catherine adopted the French motto "Non-Autre volonté que la sienne" which translates to "No other will but his".
It seems slightly ironic considering what was to come.
10. Catherine Howard had an important role in the Progress to York
Catherine went on the Royal Progress as queen beside King Henry, leaving plague-ridden London in August 1540.
The royal couple's entourage included some 5000 horsemen, soldiers, servants, and half his Privy Councillors. The purpose of the progress was to stamp the king's authority after successfully quelling the northern rebellion known as the Pilgrimage of Grace that protested the dissolution of the monasteries. It was the furthest North that Henry VIII was to travel.
The couple honeymooned through Reading and Buckingham, with King Henry VIII celebrating the marriage with extensive refurbishments and developments at the Palace of Whitehall and expensive gifts for Christmas at Hampton Court Palace.
Henry and Catherine were treated by thousands of people during the progress to York. Catherine's role on the progress was to be shown off at every opportunity by the king.
It is possible that during this royal progress, Lady Rochford helped facilitate meetings between the Queen and Thomas Culpepper.
11. Catherine was a blackmailed Queen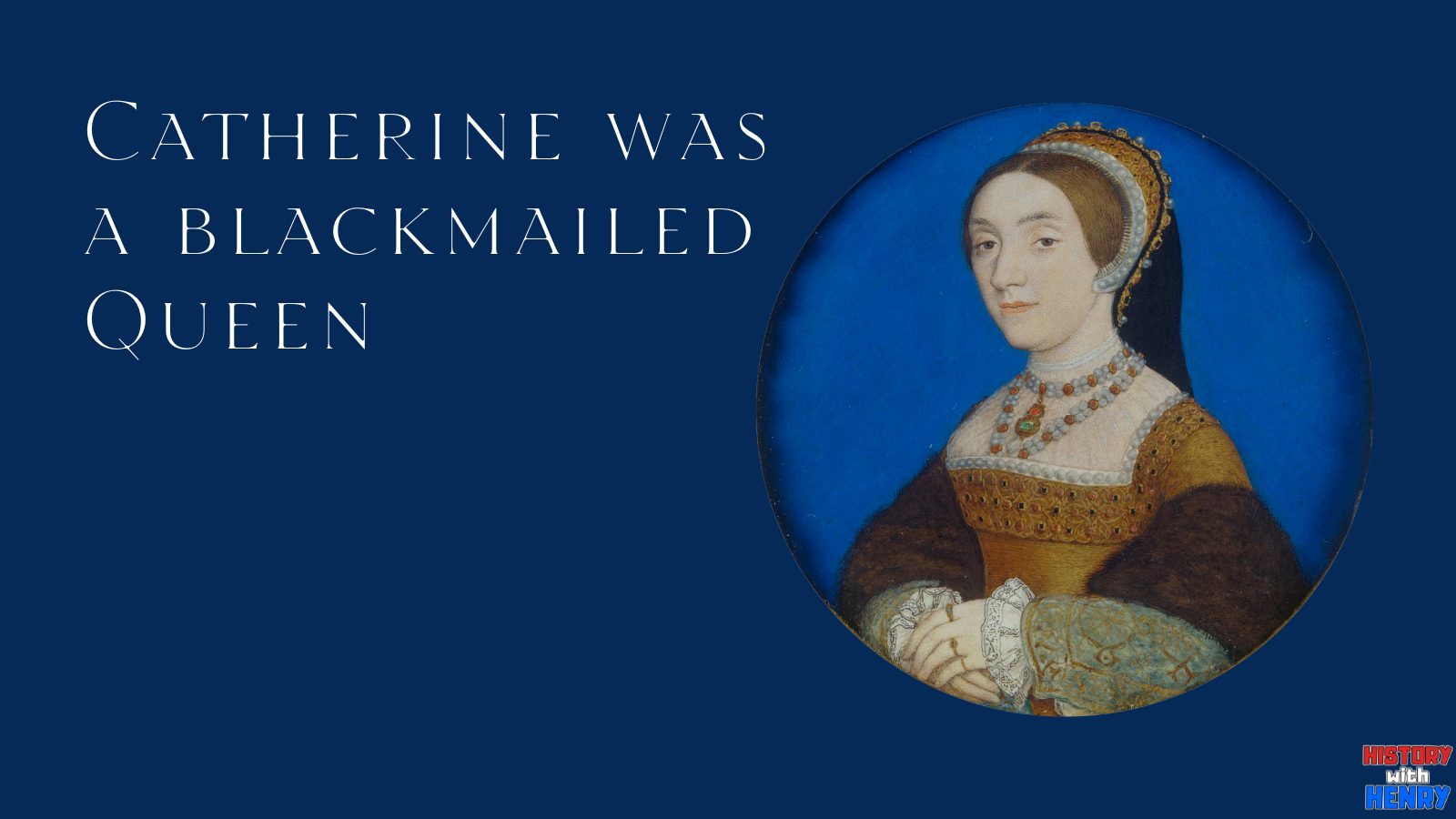 Catherine was soon blackmailed regarding her alleged sexual misconduct.
Out of nowhere, Francis Dereham turned up, and Catherine Howard promptly made him her private secretary. In retrospect, it was a foolhardy move by the young woman. But as already discussed, Catherine wasn't well educated and had been manipulated all of her young life. It is probable that Dereham brought some pressure to bear on her shoulders.
In the Spring of 1541, rumours abounded that she was secretly rendezvousing with Henry's favourite male courtier, Thomas Culpeper.
Many more who professed to be privy to her sexual behaviour at Lambeth before she took up her position at court appeared seeking favours. In short, the Queen of England was blackmailed.
There were now so many ladies in waiting that knew about the Queen's past that the rumours couldn't be kept from those in power. Discreet investigations began into Catherine Howard's past.
John Lassels told the Archbishop of Canterbury, Thomas Cranmer, that his sister refused a position within Catherine's household, having seen her "light" ways when they lived together at Lambeth. Under interrogation, Mary Lassels alleged that Catherine had sexual encounters before marrying the king while under the care of the Dowager. In a quest to topple the Roman Catholic Norfolk family, Cranmer interrogated Lady Rochford, Catherine's principal Lady in Waiting. She confessed to keeping watch for Catherine while Culpeper took leave from her room. A love letter written by Catherine was subsequently discovered in Culpeper's chambers.
12. The Archbishop's Anonymous Note about Catherine Howard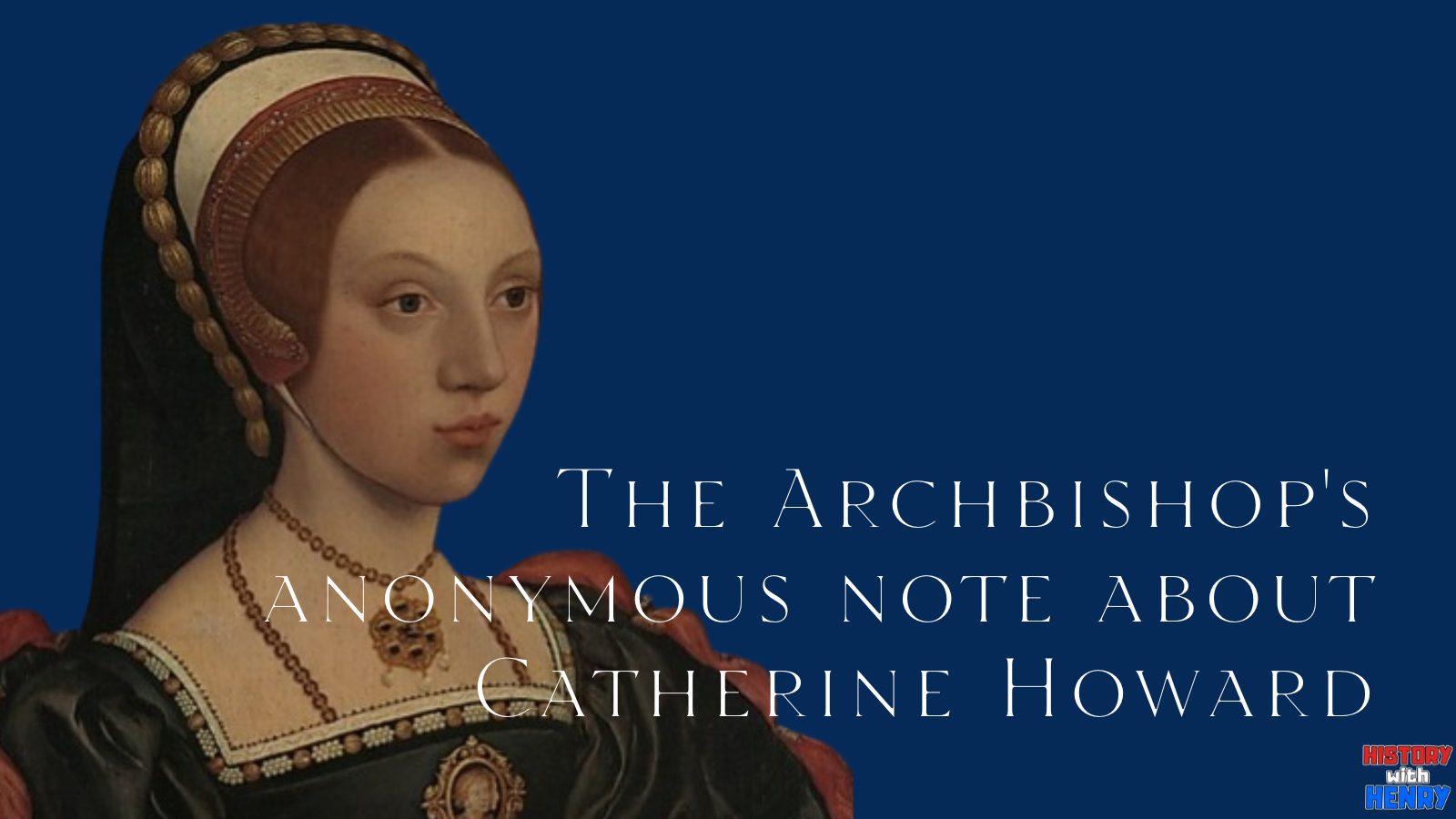 It is said that the Archbishop of Canterbury left an anonymous letter for the king to find in the King's Pew in the Chapel Royal.
In this note, he informed the king about his discoveries, having investigated Catherine's youthful indiscretions.
Henry also learned of Catherine's alleged infidelities at Hampton Court Palace on 2 November 1541. But he initially refused to believe what he had been told.
13. Catherine screamed for Henry VIII's Mercy – Probably not the right man to do this with
Catherine was arrested at Hampton Court Palace only after fleeing down the gallery, having broken free of the guards. She ran to the doors of the Chapel Royal, thinking Henry was at prayer there, and screamed for his mercy, alas to no avail. She never saw the king again.
Many visitors to the palace have reported chilling and strange sensations, and her famous ghost has often been spotted running along what has become known as the Haunted Gallery.
14. She was imprisoned in Syon Abbey, NOT the Tower of London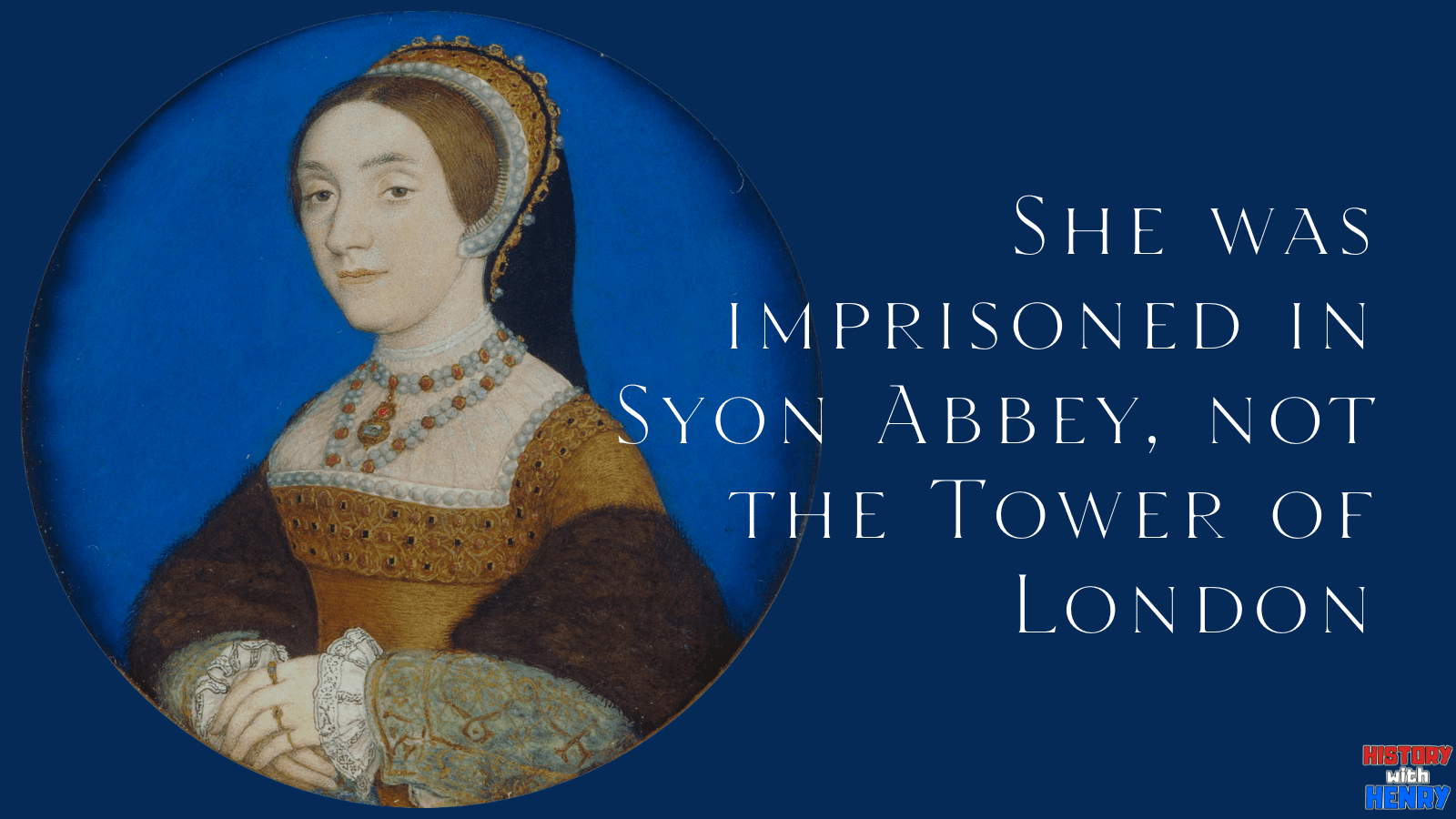 Before being imprisoned in the new Syon Abbey in Middlesex, Catherine lost her royal title of queen on 23 November 1541. She remained incarcerated here, in what had been a convent, throughout the winter of 1541.
She was only moved to the Tower of London a few days before her execution. As she was transported there, she may have seen Culpeper and Dereham's head's on London Bridge.
15. Catherine Howard practised for her own execution
Catherine is said to have asked for the block to be brought to her the night before her execution. She practised how to lay her head upon the block.
The following day, on 13 February 1542, she was beheaded on Tower Green showing relative composure but pale and terrified. So much so that she was helped onto the scaffold. Unlike her cousin, Anne Boleyn, she was beheaded with an axe. The execution of the Tower of London did the job with one strike.
It goes without saying that Henry VIII was not there to witness the death of his fifth wife.
16. Catherine's famous final words probably were never spoken
"I die a Queen, but I would rather have died the wife of Culpeper" are infamously noted as her unverified last words.
Eyewitness accounts report her, however, as sticking to tradition, asking forgiveness for her sins, and acknowledging her deserved end of "a thousand deaths" for betraying the king who had always treated her so graciously. Typical of the executed in these times, she accepted her punishment as "worthy and just" and asked for prayers for her soul and mercy for her family.
17. Catherine's body was never identified
Immediately following Catherine's execution, Jane Boleyn, more commonly referred to as Lady Rochford, was executed on Tower Green. Catherine and Lady Rochford were buried in an unmarked grave in the chapel of St. Peter ad Vincula nearby. Catherine's cousins, Anne and George Boleyn, were also laid to rest here.
Catherine's head was not placed on London Bridge with Culpeper and Dereham but buried with her body.
During Queen Victoria's reign, the chapel underwent restoration. Catherine was not among the bodies identified during this Victorian restoration. A plaque on the west wall of the chapel commemorates Catherine and is dedicated to all those who died in the Tower.