Anne of Cleves, whose name was Anna von Jülich-Kleve-Berg, was King Henry VIII's fourth wife.
Cleves is a region of Western Germany close to the Dutch border. During the Tudor period it was a Dutchy, under the rule of Anne's brother William.
She was largely unknown until 1527, when she was engaged to marry Francis, Duke of Bar. He was the son and heir of Antoine, Duke of Lorraine. But they did not marry, and she went on to marry the King of England to forge a political alliance between him and her brother as a safeguard against attacks from Catholic France and the Holy Roman Empire.
In many ways, she could be considered the most successful of Henry VIII's six wives. Yes, the marriage of the shortest of the six, but Anne escaped with her head and lived a peaceful and comfortable life in England.
Here are ten great Anne of Cleves facts.
1. Henry VIII considered Anne's sister, Amalia of Cleves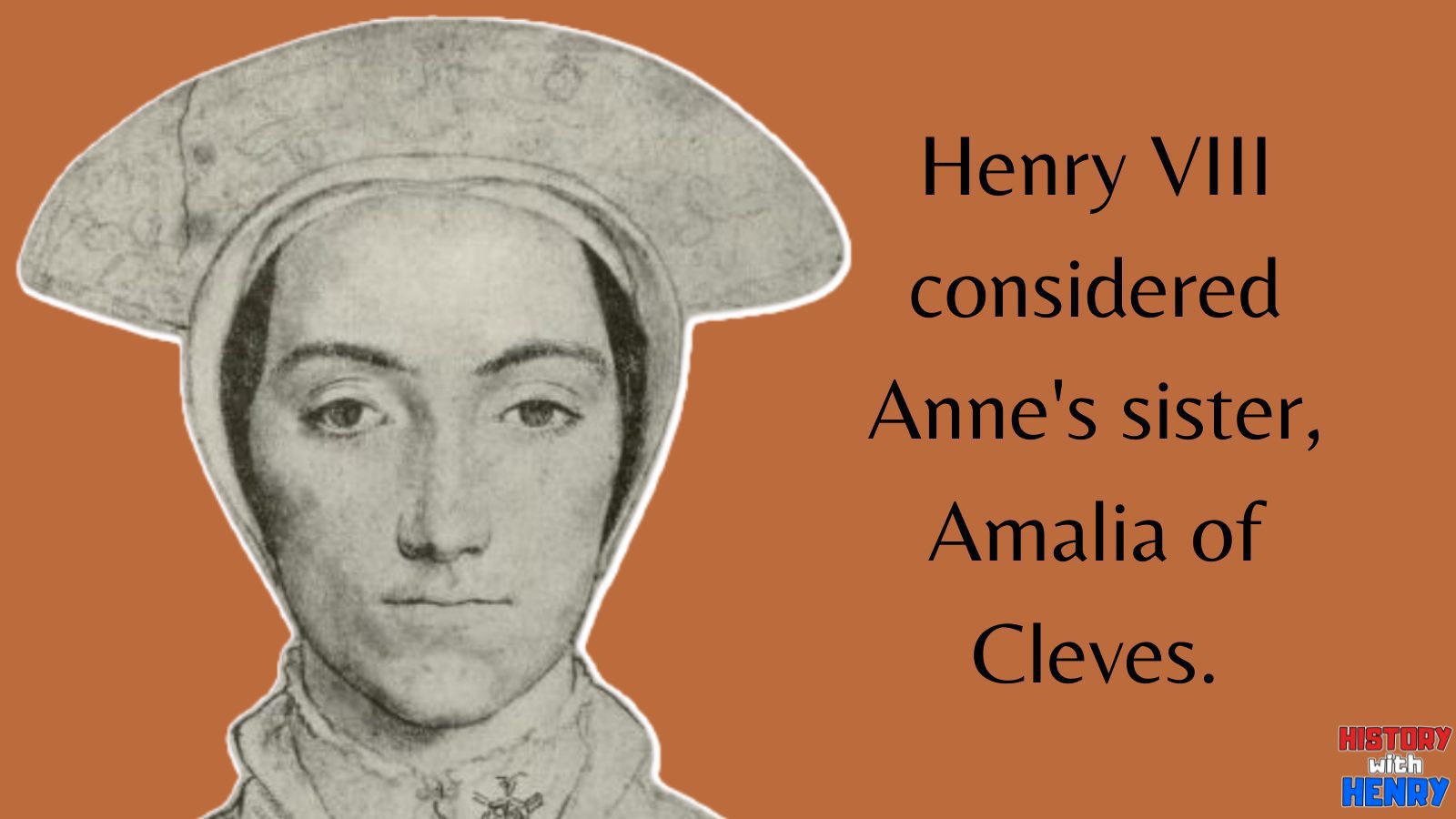 While King Henry VIII of England negotiated with the duchy to form a marital alliance with Cleves, Henry's court painter, Hans Holbein, was commissioned to paint Anne and her younger sister Amalia. Henry decided on Anne after viewing the paintings. Henry's chief minister, Thomas Cromwell, pushed the match with Anne. There was also the consideration that because Anne was the oldest daughter, her hereditary rights to her father's duchy were more conducive.
2. Anne of Cleves wasn't really unattractive
Henry was on the lookout for any reason not to marry Anne. He preferred to court women of his own choosing rather than any who were due to political motivation.
Did Hans Holbein the Younger portray Anne as more attractive in her painting than she probably was in the flesh? This was standard practice in the day.
While this allegation can not be proved, her appearance, clothes, behaviour, and personal hygiene were much criticised when she arrived in England. Poor Anne earned the nickname of "Flanders Mare" after Henry's ungallant comments.
Over the years, Anne's appearance has been constantly debated. It is safe to say we probably will never get a definitive answer. 
3. Her first meeting with Henry did not go well
Anna von Jülich-Kleve-Berg landed at Deal in Kent, England, on the 27th of December 1539 to prepare to marry King Henry VIII.
Henry was eager to wait for Anne to arrive for their formal meeting, so he decided to meet her en route to London.
In disguise, Henry arrived in Rochester on New Year's Day 1540 for their first meeting, which was a surprise to Anne. She did not see through his disguise and was shocked when this tall, rotund gentleman kissed her.
This shocked reaction by Anne could possibly be the basis for Henry's rejection of her. Henry loved to be flattered. In this case, he wasn't. 
"I like her not," was his famous first opinion of her. 
4. Anne of Cleve's marriage to Henry was the shortest of the six.
Anne of Cleves was the shortest reigning of Henry VIII's six queens, having been married to him for only six months. After being unable to get himself out of the marriage as Henry would cause offence to the Duke of Cleves, the wedding took place on 6 January 1540 at the Royal Palace of Placentia in Greenwich.
They were married by Archbishop Thomas Cranmer.
Around Anne's wedding ring was etched the phrase "God send me well to keep." Maybe she did not know how apt that might be. 
The wedding night did not go well.
Henry did not consummate the marriage, stating to Thomas Cromwell the following day, "I liked her before not well, but now I like her much worse."
The King's attention was soon taken with Anne's lady in waiting, the young Catherine Howard.
5. Anne received an impressive pay-off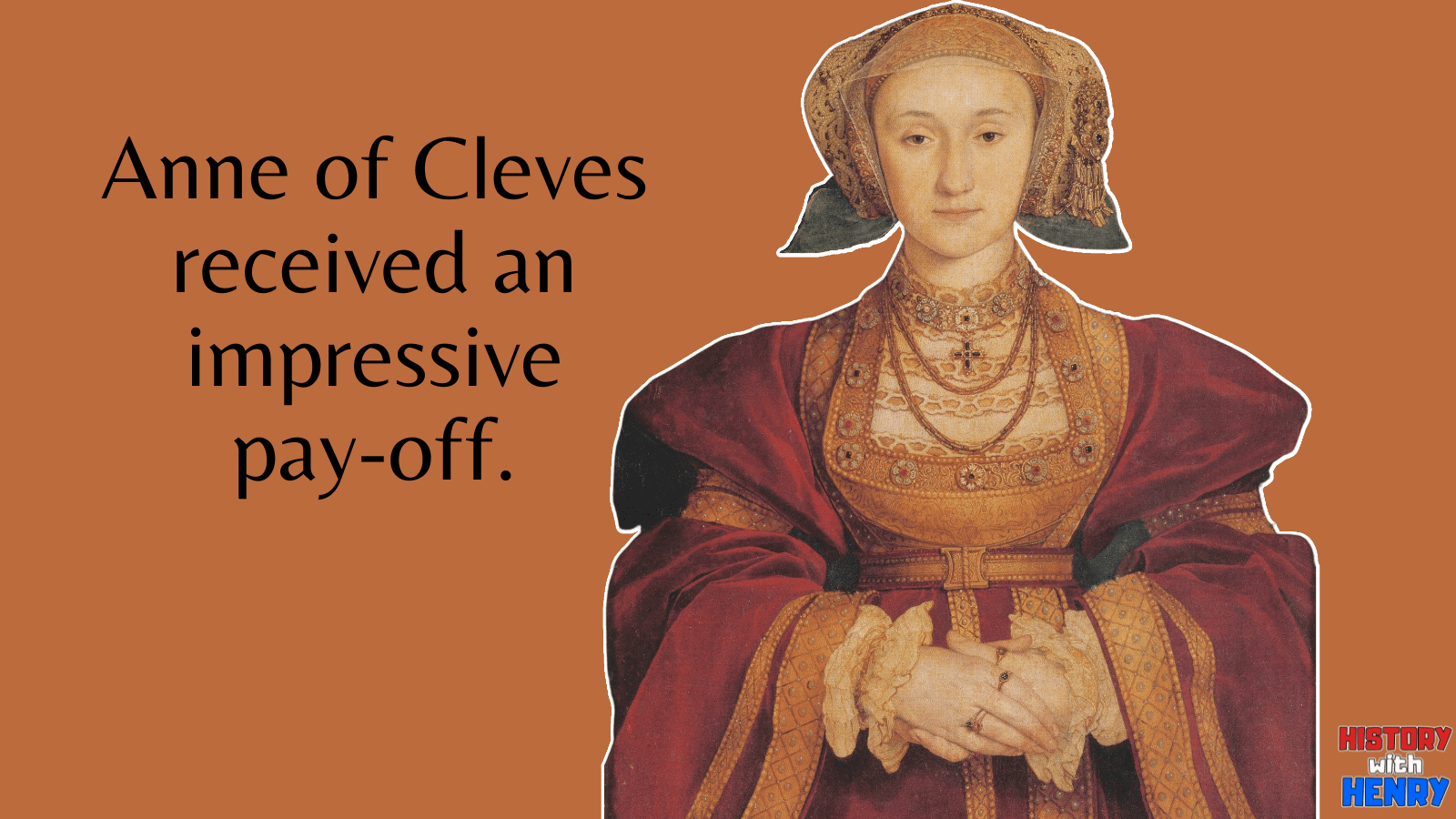 Being that she was attached to having her head remain on her shoulders, Anne accepted the divorce together with the promise of being well provided for after. She was rewarded with a generous financial settlement including Richmond Palace and Bletchingley Palace, as well as Anne Boleyn's childhood home of Hever Castle.
6. Anne of Cleves was called the King's Sister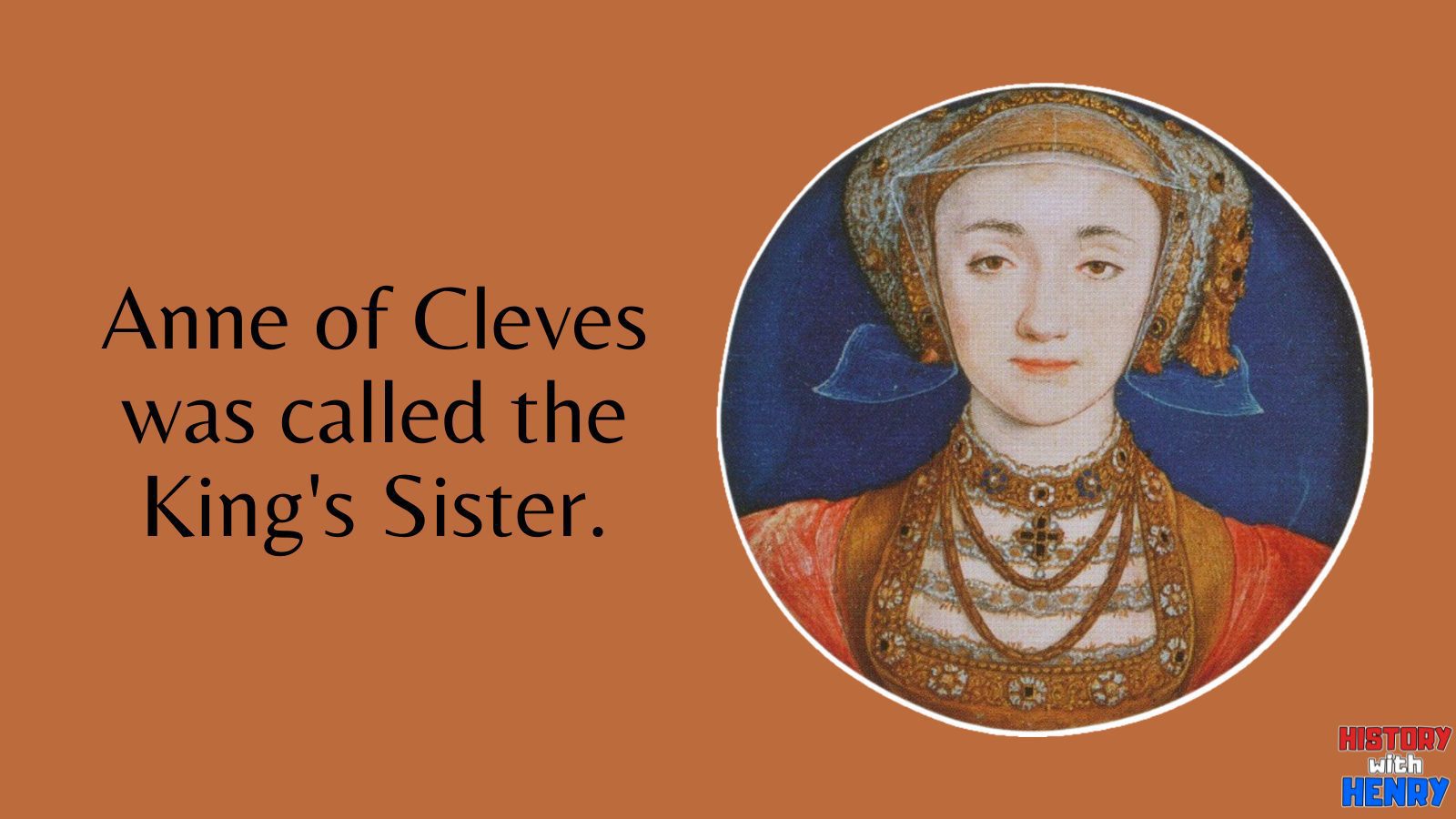 Anne of Cleves was never crowned queen consort. Her marriage to Henry was declared unconsummated after six months, complete with a generous settlement. As part of that, she also enjoyed precedence before all women at court, besides any subsequent queens and Henry's daughters, having been declared the King's Beloved Sister.
'YOU SHALL FIND US A PERFECT FRIEND, CONTENT TO REPUTE YOU AS OUR DEAREST SISTER. WE SHALL, WITHIN FIVE OR SIX DAYS …DETERMINE YOUR STATE MINDING TO ENDOW YOU WITH £4000 OF YEARLY REVENUE…YOUR LOVING BROTHER AND FRIEND.'
7. There was a rumour she might remarry Henry
Anne's brother had his ambassador ask Henry to reinstate Anne as his queen after Catherine Howard's execution. He also pressured his sister to attempt to woo the King. Rumours started circulating when Anne joined the royal court at Christmas.
Anne likely had zero interest in rekindling the relationship. Henry had now executed two of his wives, was extremely obese and had a leg that stank due to the open ulcers. Anne had received her payoff; she was in a very comfortable position and still had her head on her shoulders.
However, she did appear to be hurt when Henry proposed to Catherine Parr, saying "Miss Parr is taking a great burden on herself." 
8. She took part in the coronation of Mary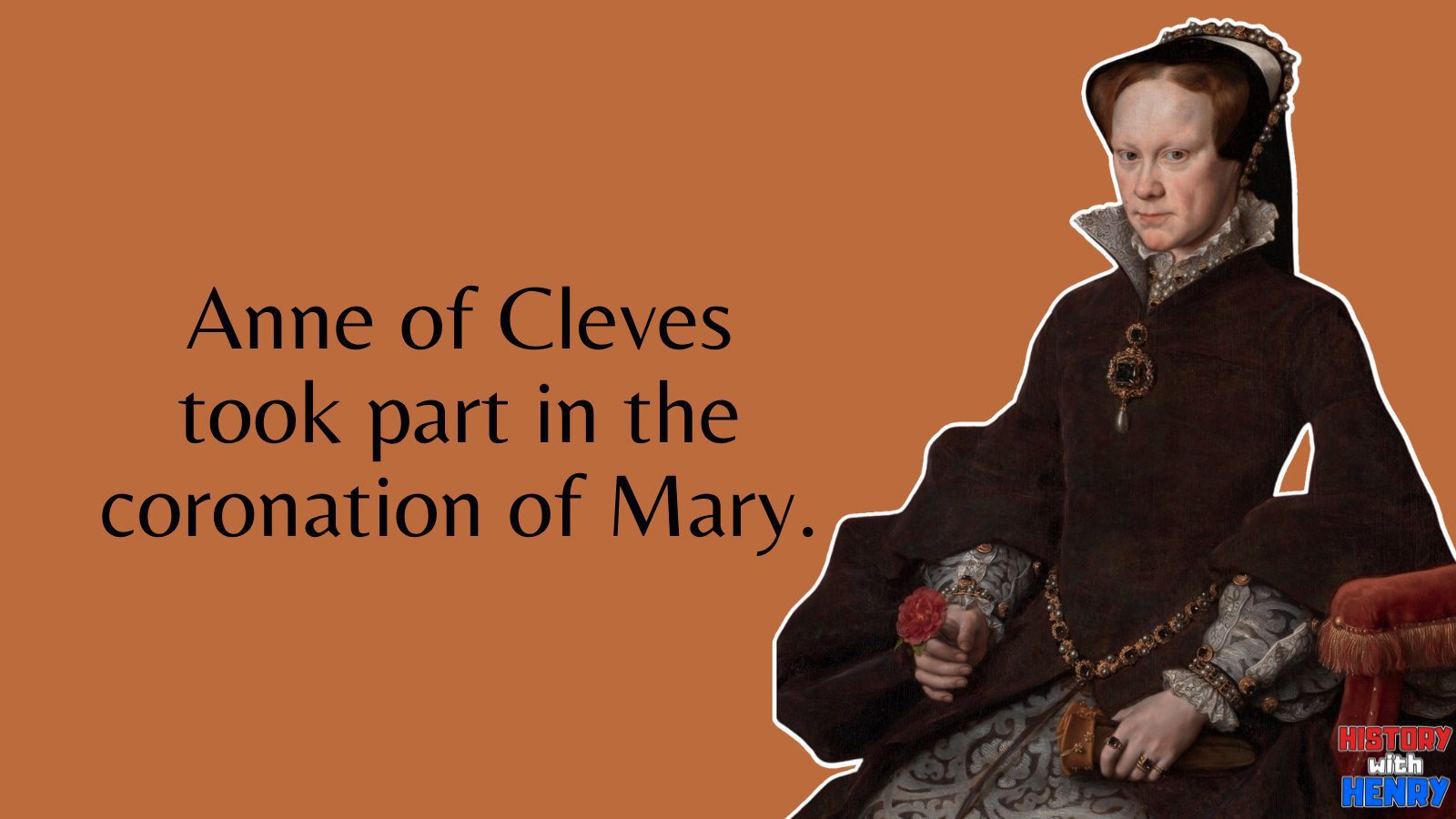 Anne was a participant in Mary's coronation procession in 1553. She named the queen the executrix of her will, bestowing on her the responsibility of seeing that her servants were paid. She also left her a jewel.
Anne enjoyed good relations with the new Queen. Mary Tudor was responsible for converting Anne to Catholicism. However, this was probably to keep favour with the new monarch – a clever move on Anne's part, considering "Bloody Mary's" historical reputation.
9. Anne of Cleves is buried in Westminister Abbey – The only one of Henry VIII's wives to be so.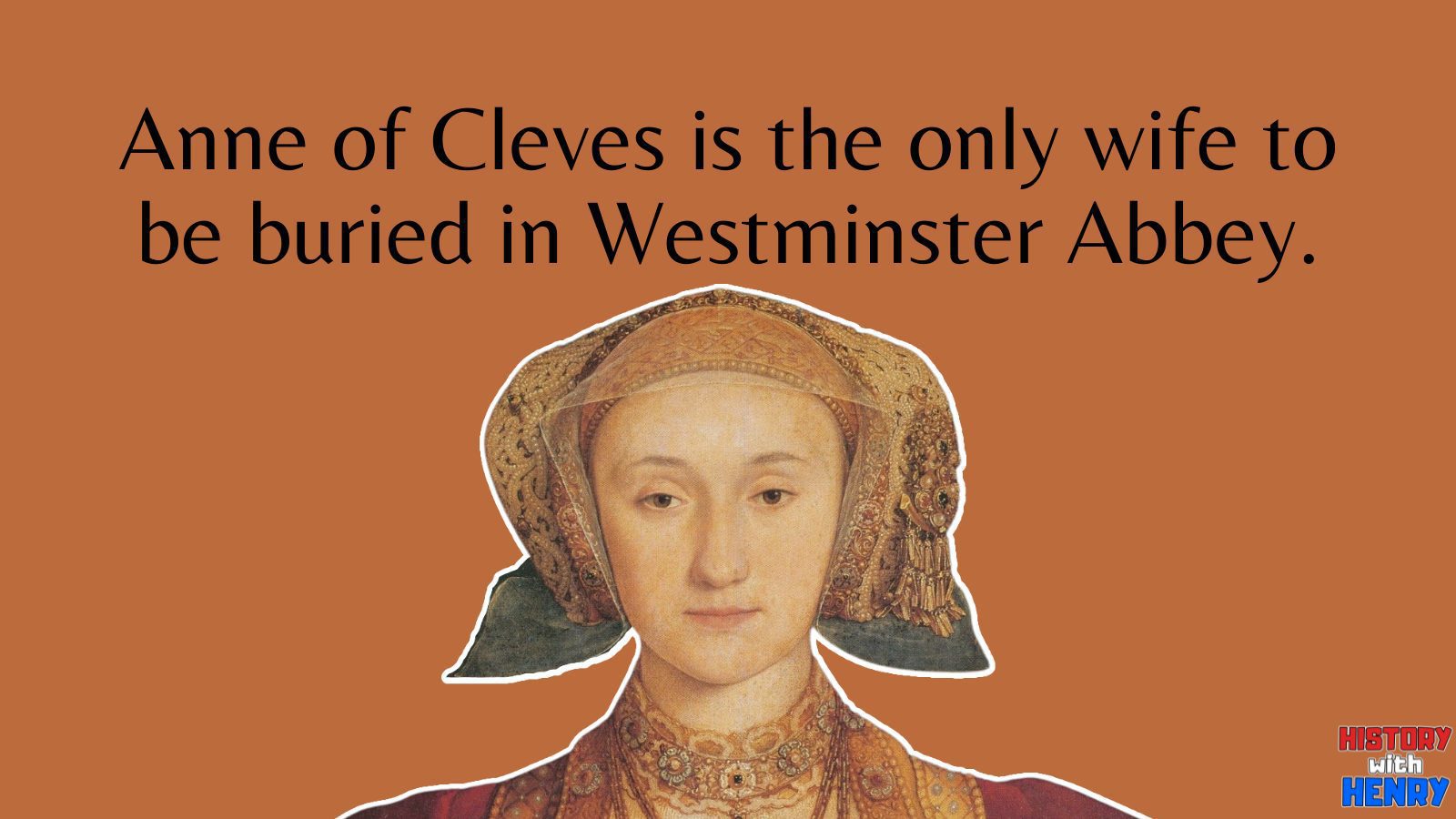 Anne died on 16th July 1557 at her home, Chelsea Old Manor. 
She was interred on the south side of the High Altar in Westminster Abbey. She is the only one of Henry's wives to be buried in the Abbey. Her stone monument is in three parts, carved with her initials AC and symbols of mortality – a crown, lions' heads, skulls, and crossed bones. After Anne's death at Chelsea on the 17th of July 1557, her burial here was organised by Queen Mary I, and the funeral was held in accordance with Catholic rites. The rear of her tomb is now obscured by later monuments, and it was inscribed in the 1970s with "Anne of Cleves Queen of England. Born 1515. Died 1557". The inscription can be seen from the south transept.
10. Anne of Cleves' Holbein portrait hangs in the Louvre
The portraits of Anne and her younger sister, Amalia, by the painter Hans Holbein the Younger, now hang in the Musée du Louvre in Paris and the Victoria and Albert Museum in London. The paintings were done in Düren when Henry was deciding on which one of the sisters to take as his fourth wife. Henry's commission was that the depiction be as lifelike as possible, rather than at all flattering in any way – we simply don't know how closely Holbein followed that instruction.
Where does Anne of Cleves fit in the timeline of Henry VIII's wives?
| | | | |
| --- | --- | --- | --- |
| Catherine of Aragon | 11th June 1509 | to | 23rd May 1533 |
| Anne Boleyn | 14th November 1532 | to | 17th May 1536 |
| Jane Seymour | 30th May 1536 | to | 21st October 1537 |
| Anne of Cleves | 6th January 1540 | to | 9th July 1540 |
| Catherine Howard | 28th July 1540 | to | 23rd November 1541 |
| Catherine Parr | 12th July 1543 | to | 28th January 1547 |