King Henry VIII is one of the most famous figures in English history, but it should be remembered he was one of seven siblings.
His parents were King Henry VII and Elizabeth of York, the daughter of Edward IV.
After winning the throne at the Battle of Bosworth, Henry VII's principal task was to shore up his claim to the throne.
In the first instance, he did this by marrying the daughter of Edward IV, Elizabeth of York. After the death of Richard III on the battlefield, she was the claimant from the House of York.
Then, the pair aimed to be parents to a significant number of children. A male heir would unify the Houses of Lancaster and York for the first time. There would be little doubt that the child would be the rightful King of England.
Of course, both Henry VII and Elizabeth of York were fully aware of the fragile nature of life in the early years of the Tudor Dynasty. Hence they knew they had to have more than one child to ensure the new Dynasty would continue.
As you will read, Henry VII and Elizabeth of York's fears were genuine. Many of Henry VIII's brothers and sisters were to die. 
So, who were Henry VIII's siblings?
1. Arthur Tudor: Henry VIII's older brother and the oldest of the siblings.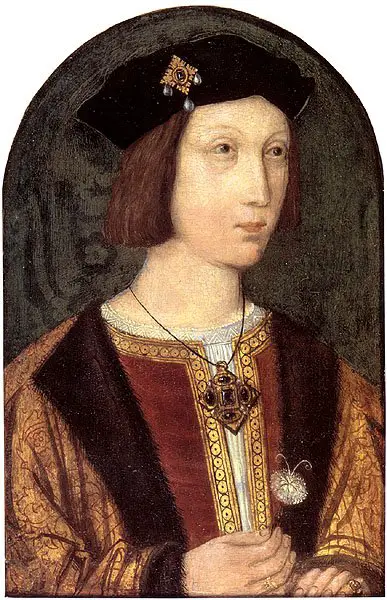 Arthur Tudor was born in Winchester sometime during the night of the 19th of September 1486. Elizabeth of York had travelled to Winchester to give birth. The town was believed to be the site of Camelot – the home of the legendary King Arthur.
With Arthur's birth came the final union of the Houses of Lancaster and York and the end of the bloody Wars of the Roses.
Arthur Tudor was Duke of Cornwall, Earl of Chester and Prince of Wales.
His parents were determined that he would live up to the legendary status that his name demanded, and his education was complete, diverse and rigorous.
From an early age, plans were put into place to marry Arthur Tudor to a daughter of the influential Isabella and Ferdinand of Spain. After much negotiation and Ferdinand finally receiving assurances that Henry VII was secure on the throne, it was decided that Arthur would marry their youngest daughter, Catherine of Aragon.
A marriage by proxy took place in 1497.
Catherine of Aragon arrived in England on 2nd October 1501. Arthur and Catherine met for the first time on 4th November 1501 at Dogmersfield in Hampshire. They had to communicate in Latin as it was the only language they both could speak.
On the 9th November 1501, Catherine of Aragon entered London to great fanfare. She was escorted into the city by Arthur Tudor's younger brother… a certain Prince Henry. It was the first time that the future Henry VIII would meet Catherine.
Catherine and Arthur's marriage took place at St Paul's Cathedral on the 14th November 1501. The happy couple both wore outfits of white statin for the occasion. At the wedding reception, the young Prince Henry caused a stir when he removed his doublet and danced on the tables in his shirt. Henry upstaged his older brother and it wouldn't be the last time. 
Arthur Tudor and his new bride moved to Ludlow in the Welsh Marches, where Arthur would "rule" as Prince of Wales.
Then in March 1502, both Arthur and Catherine were struck down by an illness.
It has been suggested that this sickness was the "Sweating Sickness" that was rampaging through England at the time.
Catherine of Aragon recovered from the illness.
Arthur Tudor did not.
Arthur died on the 2nd April 1502, aged just fifteen.
News reached Henry VII and Elizabeth of York on the night of the 4th of April. The King was awakened to tell him the news. He promptly collapsed in tears. Elizabeth came to comfort him. Once she had left her husband's bedchamber, she, in turn, broke down, and the King was summoned to comfort her.
Arthur's body was taken to Worcester Cathedral on a barge along the River Seven. At the end of the service, his household ushers broke their staves of office and cast them into the grave on top of the coffin.
Young Prince Henry was now heir to the throne.
2. Margaret Tudor: Henry VIII's eldest sister and future Queen of Scotland
Margaret Tudor was born on the 28th November 1489 at Westminister Palace. She was named after her grandmother, the formidable Margaret Beaufort.
She was brought up mainly in the Palace of Eltham near Greenwich in what became the royal nursery. All of Henry VII and Elizabeth of York's children were brought up and educated there, apart from Arthur.
On the 24th January 1502, England and Scotland signed a treaty of Perpetual Peace, and at the same time, a marriage treaty was agreed between Margaret and James IV of Scotland.
A proxy marriage took place at Richmond Palace on the 25th of January 1503.
A substantial royal progress occurred as Margaret Tudor travelled north to Scotland, and people flocked to see her. She crossed the border into Scotland at Berwick upon Tweed. The marriage between her and James took place at Holyrood Abbey on the 8th of August, 1503.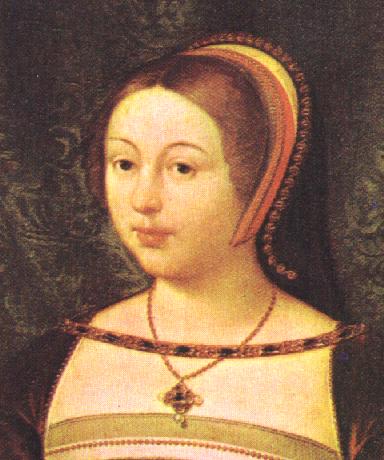 The peace with Scotland didn't last long…
When Margaret's brother Henry VIII became King, he decided he wanted to invade France.
The problem in that was France was Scotland's historical ally.
The Scots had to honour the "auld alliance" and invaded England while Henry VIII was in France.
Catherine of Aragon, who had now married her first husband's brother, was Queen and Regent of England. She arranged the defence of the country, and Jame IV was killed on the Battle Field at Flodden.
You might think that the whole situation might make for an uncomfortable family gathering if everyone was ever reunited.
Margaret was made Regent of Scotland until her son, James, came of age. However, she was deposed when she married Archibold Douglas, The Earl of Angus. Her two sons were now under the control of their uncle, and she was forced to flee to England and the protection of her brother.
It turned out there was no uncomfortable reunion; the whole thing was very amicable.
Margaret was lodged in Scotland Yard, the old London residence of the Kings of Scotland.
While in England, she gave birth to Lady Margaret Douglas, the mother of Lord Darnley, the future husband of Mary Queen of Scots.
In a massive stroke of irony, she managed to get the Pope to agree to a divorce from Douglas. In later years, her brother Henry VIII would try and fail miserably to get the Pope to sanction his own divorce.
She then married for the third time to Henry Stewart, Lord Methven, and moved back to Scotland. Guess what? She decided she wasn't too keen on him either! She and her brother were very alike. This time divorce proceedings were held up by her son, James V of Scotland. She wrote almost weekly to her brother complaining of lack of money. In 1536 Henry sent her the sum of £200 and a package of fabric.
Margaret Tudor died just five years later in Methven Castle, having not been able to get the divorce she craved.
3. Elizabeth Tudor: Henry VIII's short-lived sister
Elizabeth Tudor was born on the 2nd of July 1492. She was the second daughter and the fourth child of Henry VII and Elizabeth of York. She isn't to be confused with Henry VIII's daughter, Elizabeth.
She was born at Sheen Palace in Surrey, which was later rebuilt and renamed as a Richmond Palace. However, her life was short-lived. She died just three years of age at Eltham Palace in Kent.
Elizabeth is buried in Westminster Abbey.
Her death is notable as it would have been the first time that the future Henry VIII would have experienced a death in his family and inner circle.
4. Mary Tudor: Henry VIII's favourite sister and future Queen of France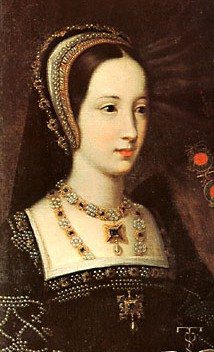 Mary Tudor was born on the 18th March 1496 at Sheen Palace. She was the youngest of Henry VIII's siblings to survive infancy.
She was undoubtedly on the closest terms of all of the siblings to Henry VIII. However, the pair did have several significant disagreements.
She was considered the most beautiful princess in the whole of Europe, and there is a possibility Henry VIII may have named the Mary Rose after her.
As part of a peace treaty with France, the 18-year-old Mary Tudor married the 52-year-old Louis XII of France. As a result of this, she became Queen of France.
She insisted that she would only do so if Henry agreed that she could marry whomever she wished after Louis's death.
She must have been able to have seen the future.
Less than three months after the marriage at Abbeville, Louis XII died.
Henry VIII sent his best friend Charles Brandon, Duke of Suffolk, to bring his sister home. He did so, almost certainly aware that the couple were in love. In fact, he made Charles promise that he wouldn't propose to her before he left England.
Mary had other ideas.
She demanded that Brandon marry her, there and then, in Paris or never do so.
The marriage took place on the 3rd March 1515 in front of just ten witnesses.
Henry VIII went mad when he found out. Some of his advisors suggested that Brandon be executed.
However, with the help of Cardinal Wolsey, both Mary and Brandon were welcomed back to court after a short period of banishment…and payment of a massive fine of £24,000 plus the dowry from the King of France, amounting to over £200,000.
A further marriage took place in Greenwich in May, which Henry VIII attended. Once she had returned to court, Mary was known as the French Queen.
However, the siblings fell out once more when Henry started making moves to divorce Catherine of Aragon. Mary Tudor was very friendly with her sister-in-law and opposed the move. She removed herself from court in protest at Henry VIII's relationship with Anne Boleyn.
Mary Tudor and Charles Brandon had a number of children, including Frances Brandon. She was the mother of Lady Jane Grey. It was through Mary Tudor that Lady Jane Grey had a claim to the throne.
Mary Tudor died, aged just 37, at Westhope Hall in Surrey on the 25th June 1533. The funeral was befitting a Princess of England and the Dowager Queen of France. One hundred touch bearers accompanied the coffin during the procession. She was buried at Bury St Edmunds Abbey.
5. Edmund Tudor: Henry VIII's younger brother who didn't see his second birthday.
Henry VIII's younger brother was called Edmund Tudor. He was born on the 21st of February, 1499. He lived for just 15 months.
Edmund was born at Greenwich Palace in Kent and baptised on the 24th of February, 1499. The child was named after his paternal grandfather, Edmund Tudor. His godparents were Lady Margaret Beaufort, his grandmother, Edward Stafford, the Duke of Buckingham and Richard Foxe.
As a male child, you will notice that we have significantly more information on him than we do on Elizabeth Tudor, who lived for twice as long.
Edmund was present with his elder sisters and Prince Henry when Erasmus and Thomas Moore visited the royal nursery in September 1499. The child was just seven months old at the time and can be seen in the arms of his nurse during the visit in the famous painting.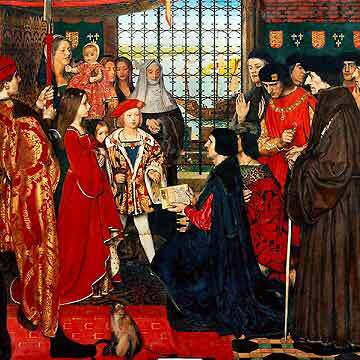 He died on the 19th of June, 1500, in the old palace, Hatfield in Hertfordshire, aged just 15 months. The cause of his death is unknown. However, it is well known that at the time, the plague was rampant around the South East of England.
He is buried in Westminster Abbey near his sister Elizabeth.
6. Catherine Tudor: Henry VIII's sister that tragically died after a few days
Catherine Tudor was born on the 2nd February 1503 in the Tower of London. The Tower is more commonly known as a prison, but before it got its reputation as such, it was a Royal Palace.
However, the child lived just a matter of days. There is no date of death recorded.
Elizabeth of York suffered complications after the birth and died on the 11th February…. her 37th Birthday.