Henry VIII of England married a staggering six times. Less than a month before his death, he was preparing his will, and he made provisions just in case he married for the seventh time. He was bed-bound at the time, was massively overweight, had open ulcers on his legs, and had little hope of recovery…but he still considered what might happen if married again! 
Henry VIII married so many times because he was motivated by either love, obsession, political alliance, or a combination of them all. The traditional view that Henry married so many times because of a need for sons was only a secondary consideration.
At his very heart, Henry VIII was a romantic. This can be seen with each of the six wives. While he was wooing his latest love, he would send them gifts, make grand gestures or even write very personal letters or poems. He valued loved ones above all else.  
Like all kings, Henry VIII desired a male heir. It took a long time and three wives before Henry had his heir. Henry knew how fragile life was in Tudor England. He was the "spare," his older brother Arthur died when he was fifteen. It has been said that the king continued to marry in an attempt to father a "spare", but that was a minor consideration. 
He married each of his wives for a different reason. 
Why did Henry VIII marry Catherine of Aragon? 
Catherine of Aragon was Henry's brother's widow. Arthur Tudor married Catherine of Aragon after an arrangement was agreed upon by Henry VII and Ferdinand and Isabella of Spain. The marriage would create an alliance between England and Spain. 
Henry was just ten years when he first met the fifteen-year-old Catherine of Aragon. After Arthur's death, the suggestion was always there that Henry should step into his brother's shoes completely when he was old enough. It was thought he would marry Catherine to ensure the alliance. 
The reports of the day suggest that Catherine was beautiful. It is easy to see how a young teenage boy could easily fall in love with a slightly older woman. 
When he became king at seventeen, the first thing he did was marry Catherine. 
Henry VIII married Catherine of Aragon because he was in love with her. The political alliance with Spain that came with it was an added bonus for the young king. 
Why did Henry VIII marry Anne Boleyn?
Henry VIII was married to Catherine of Aragon for over twenty years. More than all of his other wives combined. 
Henry was probably having what we would consider today, a mid-life crisis. 
The factor that Catherine was older than Henry worked against her as opposed to in her favour. She had been through six pregnancies and was past childbearing age. Now there was a new younger woman on the scene. This marriage was probably the one where the need for a legitimate son played a more significant role. 
Henry became obsessed with Anne Boleyn. 
Henry had enjoyed numerous mistresses in the past, but Anne refused to go to his bed. This drove his obsession further. 
In the end, Henry went to extreme lengths to marry Anne Boleyn. He broke from the Roman church and made himself supreme head of the church in England. This removed the need for the Pope to allow his "divorce" from Catherine. 
Henry VIII married Anne Boleyn because he was in love and had become obsessed with her. He also needed an heir, and Catherine of Aragon was past childbearing age. 
Why did Henry VIII marry Jane Seymour? 
It wasn't the failure of Anne Boleyn to provide Henry with a son that resulted in the ending of the marriage. It was Anne's forthright and outspoken nature. 
Henry found these qualities appealing when he was chasing her, but he found them far less so in a Queen. 
Jane Seymour was one of Anne's ladies in waiting. Once Henry started showing an interest in her, her family, particularly her ambitious brother Edward Seymour, instructed her on how to behave like an obedient wife and Queen. 
When Anne miscarried a male child, it proved to be the final straw. Henry instructed his chief minister Thomas Cromwell to find a way to get rid of the now tiresome Anne. It was Cromwell that engineered Anne's downfall and execution. 
Jane was waiting in the wings, ready to marry Henry. They got engaged the day after Anne Boleyn's beheading! 
By this stage, Henry VIII was making moves in Parliament to make his illegitimate son, Henry Fitzroy, his heir. So the need for a son was not such a significant factor. 
Henry VIII married Jane Seymour as he had fallen in love with her and believed she would be an obedient wife and be more suited to being a queen. 
Why did Henry VIII marry Anne of Cleves? 
Henry married Anne of Cleves because Thomas Cromwell suggested that a political alliance with Cleves would be advantageous to England. 
It had been over two years since the death of Jane Seymour; if Henry was driven by the need to father a "spare", then he probably would have married sooner. 
Why did Henry VIII marry Catherine Howard?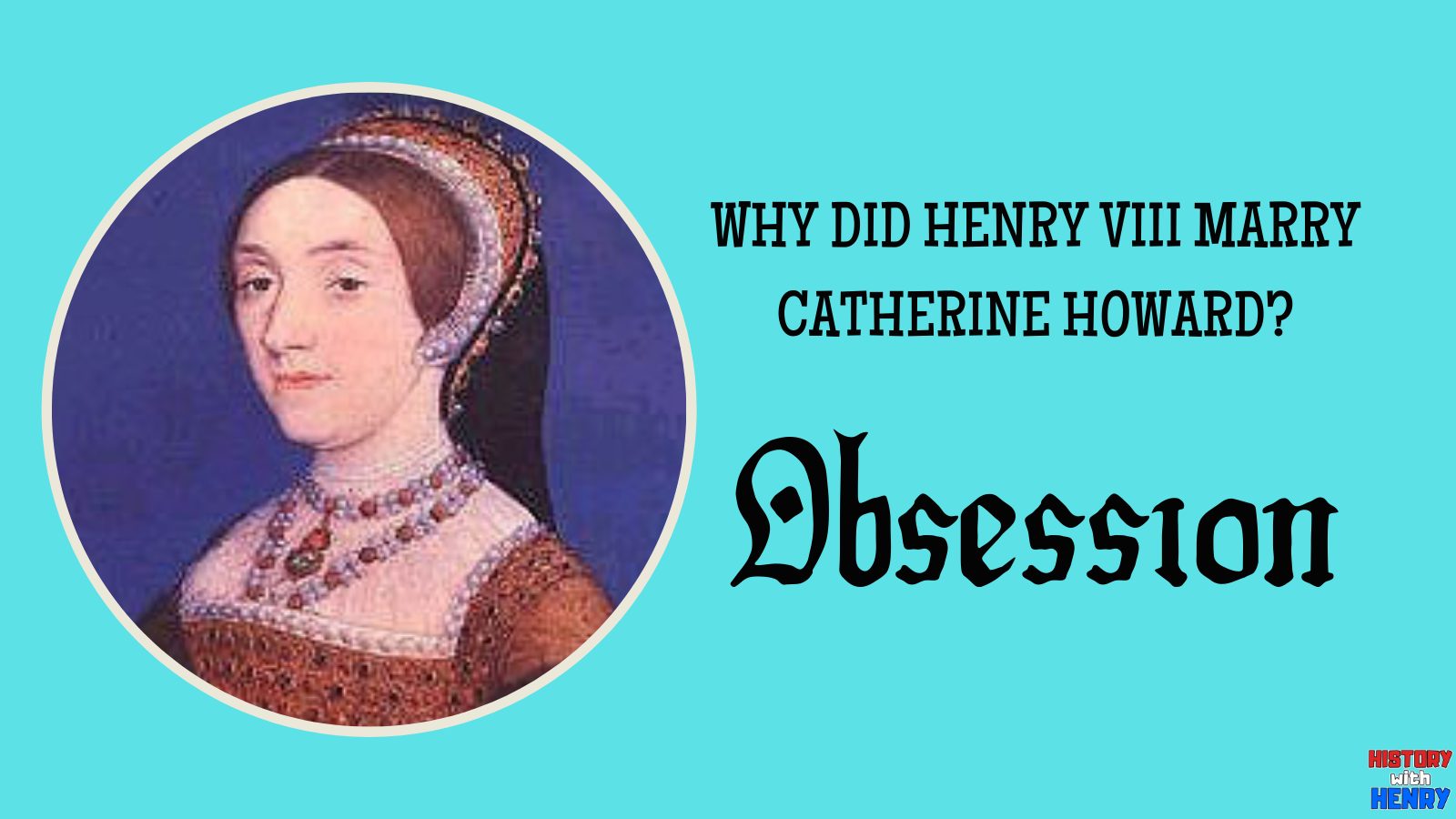 Henry VIII simply wasn't attracted to Anne of Cleves when she arrived in England. However, he had to go through with the marriage so that he didn't make another enemy in Europe. 
Catherine Howard was a young, pretty lady-in-waiting to the new Queen. Henry VIII soon became obsessed with Catherine Howard. 
He was far older than Catherine, obese, and had leg injuries. Catherine flattered the king's ego and made him feel young again. 
Henry VIII married Catherine Howard because he loved her and was obsessed with the young, pretty woman. 
Why did Henry VIII marry Catherine Parr? 
Henry was now looking for stability after the disastrous marriage to Catherine Howard that humiliated him. 
Catherine Parr, who was a widow twice over, was a good bet. She was intelligent and educated, which Henry valued in a wife and could provide companionship in his final years. 
Catherine was around thirty years of age, so was far older than Catherine Howard, but would still have been considered of childbearing age. However, Henry knew that her first two marriages produced no children. She probably wouldn't have been the first choice if fathering a "spare" was a priority. Henry was not in good physical health and almost certainly knew that he would have difficulty fathering children in his current condition. 
Henry VIII married Catherine Parr for stability and companionship in his final years. 
What about the need for sons? 
In Tudor England, the need for a son and an heir was critical, especially for the king. It was believed that women weren't particularly suited to leadership and running a country. However, the irony is that Henry's daughters both became Queen Regent, and Elizabeth, in particular, had a very successful reign. 
Henry's marriage choices were not heavily influenced by the desire for an heir. It was probably only significant in the attempts to divorce Catherine of Aragon. If Anne Boleyn hadn't come along, then it would have been someone else. 
Did Henry VIII have a problem fathering male children? 
The idea that Henry VIII couldn't father male children is false. 
Catherine of Aragon gave Henry his first male child on New Year's Day 1511. The new Prince was Henry Duke of Cornwall, but he died after several weeks. 
You can read more about Henry, Duke of Cornwall, in our in-depth article here. 
Catherine also gave birth to another male child, this one living only a number of hours or days. 
Henry VIII's long-term mistress Bessie Blount gave Henry an illegitimate heir who the king openly acknowledged – Henry Fitzroy. 
Anne Boleyn miscarried a male child. 
Jane Seymour famously gave birth to Prince Edward, the future Edward VI. 
There is also the possibility of Henry fathering male children with other mistresses, particularly Mary Boleyn. 
It seems ludicrous given the evidence to suggest that Henry VIII had problems fathering male children.